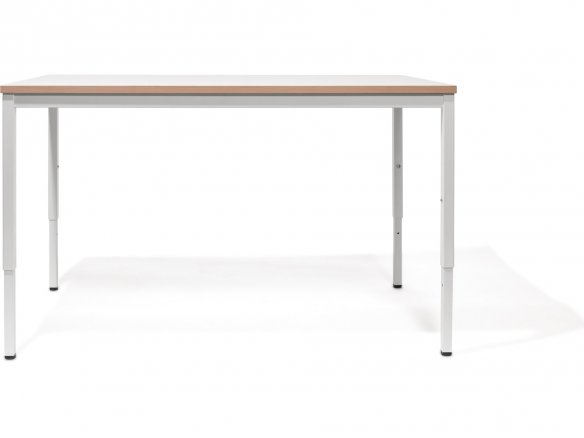 Table frame material

steel, outer leg 30 x 30 mm, inner leg 25 x 25 mm, rails 25 x 40 mm, wall thickness 2mm

Table frame dimensions

h x b x l = 500-740 mm, 680 ( 610 ) x 1200 ( 1130 ) mm

Table frame surface

textured, white surface similar to RAL 9016

Tabletop material

chipboard core, melamine resin coated, orange-peel finish, beech

Tabletop dimensions

22 x 680 x 1200 mm, edging 2 mm

Tabletop colour

white, beech

Accessories

Corner connectors with screws (hex key size 6)

Features

adjustable feet, height adjustable in 5 steps (hex key size 4)
We carry this white M2 table frame complete with a likewise white, melamine coated tabletop with beechwood edge band for all those people that want to get right to work doing handicrafts or painting or even just doing school work. The size of the table (680 x 1200 mm) is such that two children can sit next to one another on each side (= 4 children!).
In view of the fact that children grow fast, the table is supplied with height adjustable legs with which the table can be raised at 5 levels in order to match the body size of a chlld (this is accordance with the DIN EN 1729 - 1: 2006 - 09 European norm). The height for a beginner at school starts at 520 mm (including the tabletop) and goes all the way up to 760 mm (including tabletop) for those that are getting their high school diploma or have gone on to college. The straightforward and almost timeless design will retain its value even after years of use and thereby become a part of its owner´s life.
Accessories and Related Products