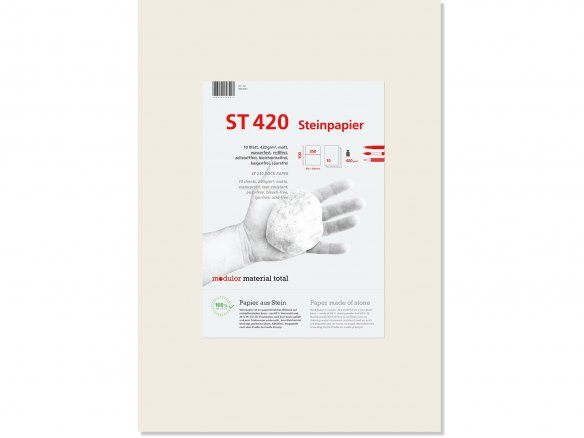 10 sheets, matte, waterproof, tear proof, flame retardant, cellulose-free, bleach-free, lye-free, acid-free
Stone paper is a paper-like material made on a non-plant basis that is produced with 80% stone meal (calcium carbonate, a waste product from the construction industry) and polyethylene (as bonding agent) all placed under high pressure. Stone paper production is environmentally friendly: no trees are felled, no drinking water used, no bleach or acid employed. Even the disposal by incineration entails no danger to the environment: no pollutive toxins or sewage results.
Modulor stone paper is waterproof, tough and tear-proof while still being smooth and nonetheless matte. It has a similar feel to plastic and (without bleeding through) can be written on with any kind of pen or painted on with any kind of paint. It is also suitable for wet techniques whereby the drying time is considerably longer that with customary paper. Interesting effects are thereby produced and new techniques are continually being invented.
Stone paper can also be well used for professional offset printing. When printing with an ink-jet printer, care must be taken because the ink on stone paper dries very slowly, which mean it is susceptible to being smudged or blurred. Because laser printing works with very high temperatures, stone paper should not be used with that method.
The limestone used for our stone paper is a natural product - as a result, variations in the material (e.g. varying colour tones or levels of whiteness) cannot be ruled out.
Modulor Stone Paper, ST240, 240 g/m², 350 x 500 mm, 10 sheets
Note
Because made from recycled materials, colour tones or whiteness levels may vary with each batch.