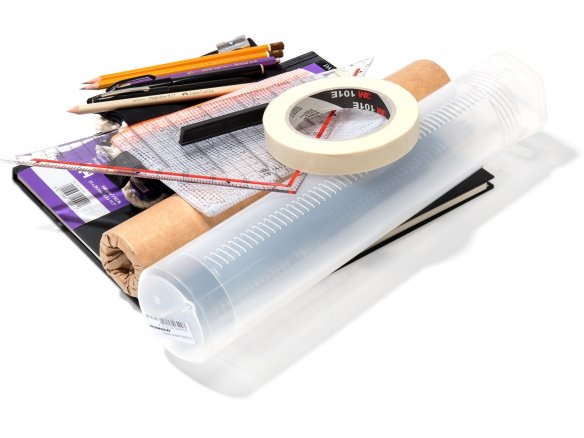 15-piece starer kit for technical drafting and sketching, comes in cotton bag
What drawing materials and toos does an architecture or designer student need at the start of classes or a technical draftsman or woman at the start of training?
Which pens and pencils, paper or rulers are the most practical=
We have put together everything a beginner will need in our Modulor Starter kit for drafting - or at least what the university usually recommends to its students as initial equipment. And all this at a great price! (and practically each article can be bought separately if a replacement is needed).
Contents:
Transparent sketching paper roll, 22 g/m², w=330, l=50 m
3M 101E crepe masking tape, lightly creped, 18 mm x 50 m
Daler Rowney Simply sketchbook, hardcover, 100 g/m², 216x279 ca. A4 tall format, 54 leaves
Koh-i-Noor kneaded eraser, blue, in box (6422), for graphite, chalk, charcoal
Faber Castell Perfection eraser pencil, half red lead, half white lead (7057)
Penxacta 0.5 fineliner, black
Pentel Sign Pen, black
Koh-i-Noor Versatil 5216 clutch pencil for 2 mm leads, with sharpener, colour sorted
Koh-i-Noor Hartmuth 1500 pencil, 2B
Koh-i-Noor Hartmuth 1500 pencil, 2H
Standard pencil sharpener, single hole, for 8 mm diameter pencils
Technical drafting triangle, removable holder, 45°, l = 325 mm, Nr. 2332
Twist top transport tube, adjustable length from 350-620 mm, inner-ø 65mm
Zipperred transparent bag, 40 x 178 for DIN A6 (zipper is orange)
Westford Mill Cotton gym bag, ca. 460 x 360 mm, black