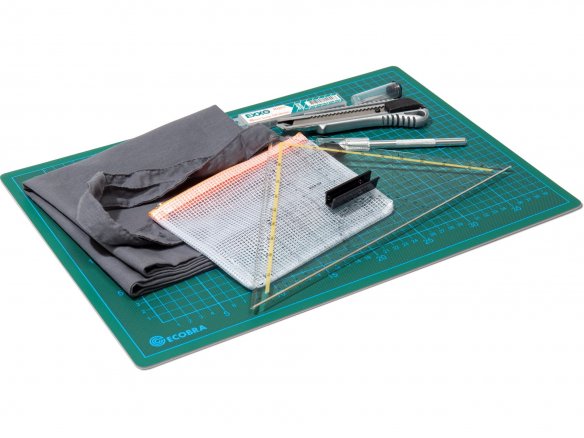 8-piece starter cutting kit for model making and handicrafts, comes in cotton bag
What equipment is required for getting started in model making?
Which cutter, blade or ruler makes the most sense?
The Modulor starter kit for cutting has everything that a beginner needs - and at an especially reasonable price. And all the articles can also be bought separately if you need replacements.
Contents:
Ecobra cutting mat, top quality, green/black, 300 x 450 (ca. DIN A3)
Acrylic geometry and cutting triangle, secure grip, 45°, l = 325 mm
Ecobra metal cutter, silver, LARGE, includes 1 snap-off blade (18 mm)
Standard snap-off blade, w = 18 mm, th = 0.50 mm, 10 blades
K1 artist knife, includes 1 blade (Nr. 72), straight
Transparent zippered bag, 140 x 178 for DIN A6 (orange zipper)
Westford Mill cotton bag, "jute bag", ca. 380 x 420 mm, long handle, grey