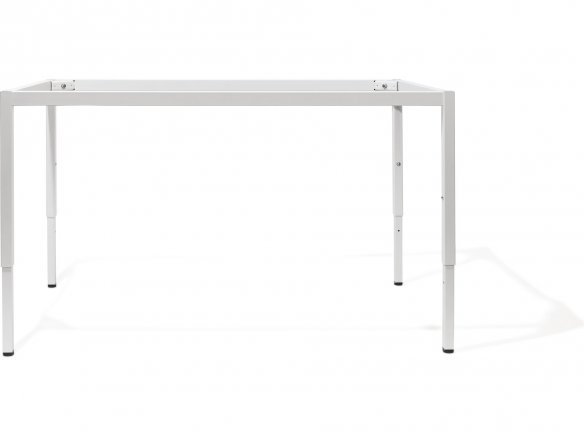 Table frame material

steel, legs 30 x 30 mm, rails 25 x 40 mm, wall thickness 2mm

Table frame dimensions

h x w x l = 500-740 mm, 680 (610) x 1200 (1130) mm

Table frame surface

textured, white surface similar to RAL 9016

Table frame accessories

corner connectors with screws (allen key, size 6) and lock rings, mounting screws for tabletop, allen keys not included

Features

height adjustable in 5 levels (hex screw, size 4)
Kids grow fast! Really fast! Realizing this led us to develop a height-adjustable table frame called the M2. It can be adjusted to 5 different levels to match the changing size of a child, the parameters of which correspond to the relevant European Norm DIN EN 1729-1: 2006-09. It goes from 520 mm (including the tabletop) for children starting school all the way to 760 mm (including the tabletop) for high schoolers and college students.
Because this product is only the frame you are left to order a 19 mm tabletop with real wood edge band from our custom cutting service or you can take a look at panels that have already been cut with the goal of finding one you like.
The simple elegance of the practically timeless design of the frame will retain its value over the years and your table will become a beloved companion over your life.
Modulor M2 table frame system for children 30x30x500-740 mm, 680(610) x 1200(1130) mm, white
Accessories and Related Products