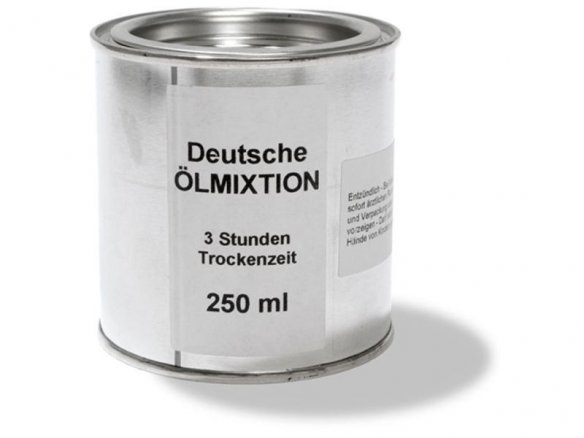 adhesive coat for gilding, specially treated, dried linseed oil, for indoor and outdoor gilding work, lead-free, open assembly time is approximately 1 hour
Description
Hazard warnings
Mixtion is also suitable for use with both real and artificial metal leaf as well as powder gold/silver. In contrast to the water soluble gilding size, mixtion is oil-based, which is the reason that it is the choice of those who want to make weatherproof gilding. Previously, mixtion contained lead together with its linseed and turpentine oil as a means of smoothing out the mixture. Today, however, ways have been found to eliminate the lead because it is so dangerous to health.
After preparing the surface (see information under GILDING SIZE), the mixtion should be applied thinly and evenly with a flat, soft brush like, for example, a MODLER BRUSH. The drying time that must be adhered to is the time that you must wait before you begin the gilding process. This time is really only approximate because there are way too many factors that can influence the actual drying time like, for example, the thickness of the coat, the room temperature and the ambient humidity. Making a test with your finger can help you determine the right point in time: if it squeaks when you pass your finger over the surface, it is ready.
The open assembly time, i.e. the time during which the glue is still functional, is also not an exact one for the same reasons.
 Mixtion, with its shorter drying time, has the advantage that you can begin the actual gilding sooner but harbours the danger that the metal can absorb some of the coat in places where it is somewhat thicker and thereby form dark spots on it, while in places where the coat is too thin the gluing action can become too weak. It is much easier to find the right amount with the 12 hour mixtion. This type should be chosen for work which at the end should have an especially high, even shine – in such cases you must be willing to accept that the waiting time will be so long you will have to carry the work over to a second day.
Danger, Hydrocarbons, C9-C11, < 2% aromatics = 30 - 60 %, LÖSUNGSMITTELNAPHTHA (ERDÖL), MITTLERE ALIPHATISCHE = 10 - 30 %, 2, Ethylhexanic acid, zirkonium salt = < 1 %, PHTHALSÄUREANHYDRID = < 1 %, Flam. Liq. 3, Elicitation (Resp. Sens.) Elicitation (Skin Sens.) STOT SE 3 , STOT RE 1, Aquatic Chronic 3
Hazard warnings
EUH066: Repeated exposure may cause skin dryness or cracking.
EUH208: Contains (name of sensitising substance). May produce an allergic reaction. (EUH08 may be omitted if EUH204 or EUH205 has to be applied.)
H226: Flammable liquid and vapour.
H336: May cause drowsiness or dizziness.
H372: Causes damage to organs through prolonged or repeated exposure .
H412: Harmful to aquatic life with long lasting effects.
Safety instructions
P210: Keep away from heat, hot surfaces, sparks, open flames and other ignition sources. No smoking.
P240: Ground and bond container and receiving equipment.
P241: Use explosion-proof [electrical / ventilating / lighting / …] equipment.
P242: Use non-sparking tools.
P243: Take action to prevent static discharges.
P260: Do not breathe dust / fume / gas / mist / vapours / spray.
P261: Avoid breathing dust / fume / gas / mist / vapours / spray.
P264: Wash … thoroughly after handling.
P270: Do no eat, drink or smoke when using this product.
P271: Use only outdoors or in a well-ventilated area.
P273: Avoid release to the environment.
P280: Wear protective gloves / protective clothing / eye protection / face protection.
P303+P361+P353: IF ON SKIN (or hair): Take off immediately all contaminated clothing. Rinse skin with water [or shower].
P304+P340: IF INHALED: Remove person to fresh air and keep comfortable for breathing.
P312: Call a POISON CENTER / doctor / … if you feel unwell.
P314: Get medical advice / attention if you feel unwell.
P370+P378: In case of fire: Use … to extinguish.
P403+P233: Store in a well-ventilated place. Keep container tightly closed.
P403+P235: Store in a well-ventilated place. Keep cool.
P405: Store locked up.
P501: Dispose of contents / container to …
Mixtion, drying time 3 hours, 250 ml