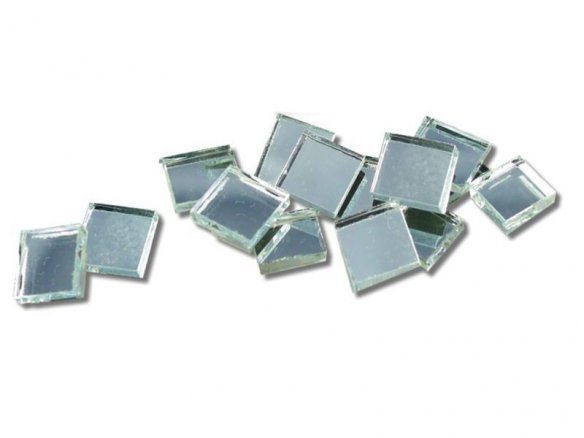 frost resistant, insensitive to temperature swings, abrasion resistant
Small or large mirror tiles in a mosaic serve to break up the overall pattern and create a more interesting appearance. The small tiles can be set in floors or on the wall in bathrooms and kitchens.
Although seldom, it can happen that the glue and the grout can corrode the silver coat on the back of the mirror glass sheets. In the case of large mosaic projects it is therefore recommended that preliminary tests be undertaken beforehand. In principle, Modulor´s FLEX-GLUE FOR GLASS, MAEBLE AND CERAMIC MOSAIC and GROUT FOR GLASS AND CERAMIC MOSAIC are also suitable for glass mosaic.
Mirror mosaic tiles
2 Variants
Note
Because the tiles are produced through a process that includes breaking them off, they are not exactly the same size and not precisely square.

A complete catalogue depicting all the available products can be found under: MURANO GLASS MOSAIC TILES, UNICOLOURED.