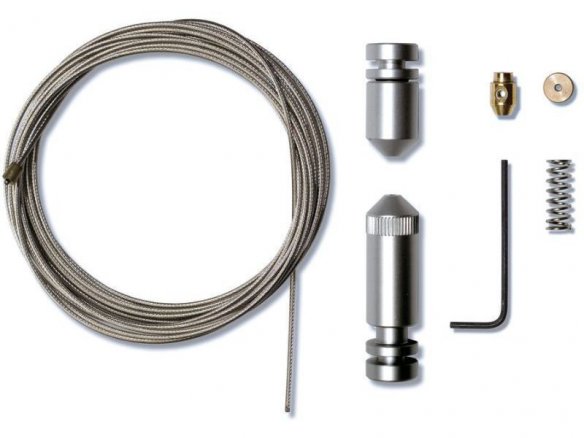 silver anodized aluminium mounts, ceiling mount diameter 16 mm, h = 33 - 37 mm, floor mount diameter 16 mm, h = 53 - 64 mm (depending on the thread position), stainless steel cable th = 1.5 mm, l = 4,000 mm, 2 mm hex key
The special feature of this version, which is referred to as "track to track", is that the mount is not secured on the wall or ceiling with dowels but rather by means of a flange in a attached track, which makes the whole system that much more versatile. Above and below, or, alternatively, to the right and to the left, C-tracks can be secured on the floor, ceiling or wall by means of dowels or screws. The mounts for the suspended cable are fed into the track and can be continuously adjusted or changed. This not only makes it easier to mount the cable but also, for example, allows you to hang pictures of different sizes because the cable can be moved to accommodate the different widths.
The ceiling mount consists of two parts, a flange that can be fed into the C-track and a thread on the bottom end upon which the cable mount piece can be screwed into position. The floor mount works according to the same principle. The mounts can be fixed in place by screwing the cable end piece that slides into the track until it is secure – this will allow you to position a cable at a slant if you prefer. In addition, this thread allows you to tighten up a cable that, when mounted, was somewhat loose.