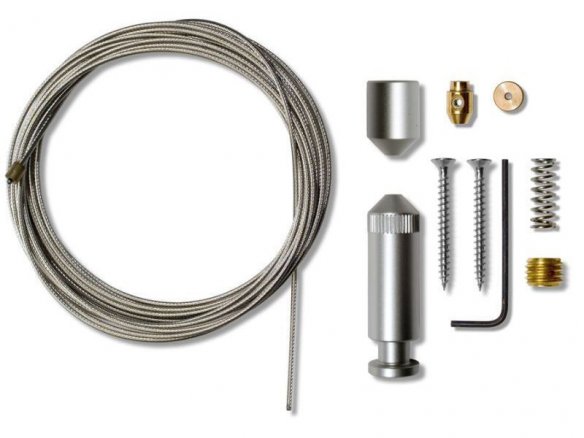 silver anodized aluminium mount, ceiling mount diameter 16 mm, h = 22 mm, floor mount diameter 16 mm, h = 51 - 63 mm (depending on the thread position), stainless steel cable th = 1.5 mm, l = 4,000 mm, includes 2 (3 x 40 mm) screws (no screw anchor) and 2 mm hex key
The ceiling mount is made up of a sleeve with exterior threads, which is attached to the ceiling by means of a Spax screw (and a screw anchor if necessary). The short aluminium cylinder with the wire cable hung through it is then screwed over the threaded sleeve. In the case of the floor mount, the cable must be cut to roughly the appropriate length, fed through the aluminium cylinder floor mount and affixed at the cable end by means of an end stop and a hex cap screw. As with the ceiling mount, a holder must be screwed into place on the floor – with or without a screw anchor – and the cylinder screwed over it. The run of threads on the floor mount serve as the means for tensioning the wire cable.
Mounting the MIC suspended cable system is certainly not as easy as peeling potatoes but is definitely doable; you should be sure not to cap off the wire cable until you are really sure of the length required. In addition, it is a good idea to mount the ceiling mount first so that you can establish the exact position of the floor mount by sounding in the manner of a plumb line establishing verticality (let it hang!).