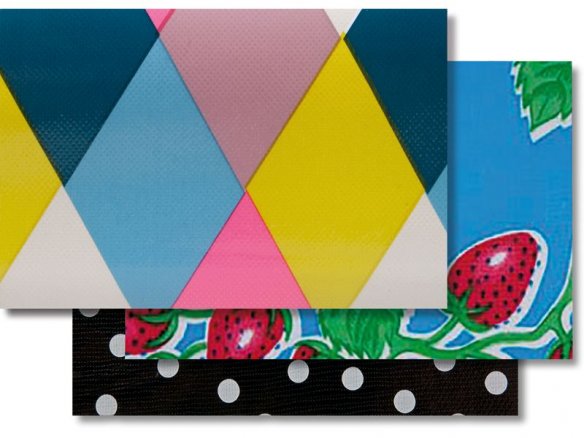 soft-PVC, front side is glossy, back is laminated with gauze, no protective film
Oil cloth is actually a kind of natural fibre fabric (canvas fabric) that had been made waterproof by coating it with linseed oil. In the past it was used for packing and other purposes but in today´s world these uses have disappeared due to the arrival of plastic on the scene. What we are here calling "oil cloth" is the product that is now often found being placed on the dining table, whereby it is often seen being held in place through the use of metal clips attaching it at the table edge. Our version is actually a vinyl film that has a cotton mesh fabric (mesh width about 2 mm) laminated to its unprinted backside for reinforcement purposes. That aside, it is the patterns and designs that really matter: colours, flowers, checks, dots – felicity, fruitful Spring, folklore; true fantastic old-fashioned joy. Oil cloth can be used as a wipable tablecloth or as the basis for sewing a coin purse, a toiletries bag, a pencil case, a shoulder bag, a protective covering, an armband or curtains.
The gauze material on the reverse side lends a certain amount of tear resistance and sturdiness; we already know it is waterproof but did you know that even the bond between the gauze and the vinyl is waterproof as well? In spite of this, the material is pretty thin, which allows it to be easily pleated or folded. This property, then, allows you to, for example, make seams that are relatively flat in nature. This material can be easily cut with a scissors or a cutter; when doing gluing work, be sure to note whether the adhesive is plasticizer resistant or not. A teflon presser foot is the best solution against the PVC sticking during sewing. Alternatively, SILK PAPER (tissue) can be placed underneath or you can add a bit of sewing machine oil (SILICONE OIL) to the area to be sewn to make it slide better. If you plan on using the oil cloth as the basis for making some kind of tarp or curtain where sturdy mounting holes will be necessary for taught hanging purposes, the use of EYELETS or CLAMP EARS should do the trick.
Mexican wax oilcloth, coloured
2 Variants
Note
The minimum order for products sold from rolls: 0.5 running metre. Please note that no exchange is possible in the case of products cut from rolls.