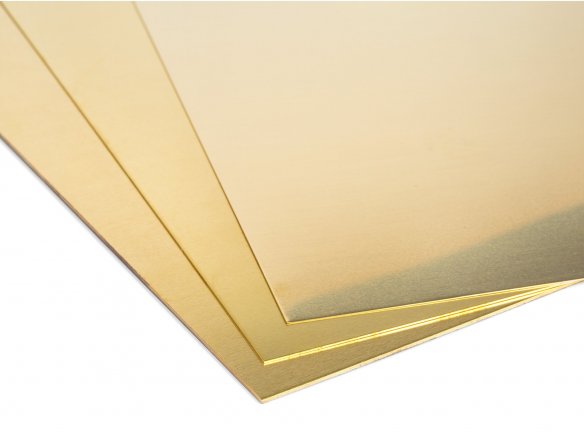 medium hard, one side with protective film (starting at thicknesses of 0.3 mm)
Brass takes extremely well to soldering. Gluing work can be done with two component glue like, for example, those based on cyanoacrylate; in model making, UHU HARD or RUDERER plastic glue can also be used. The sheets can be cut with a SHEARS or a BLADE as long as it is not thicker than 0.1 mm. For larger thicknesses, METAL SNIPS or a saw with a metal blade are recommended.
Interesting surface effects can be achieved by means of a PATINATION AGENT or self-made chemical baths.
Brass sheets custom cutting
standard sizes
custom cutting
600 mm x 2000 mm
1000 mm x 2000 mm
Note
We cannot give more precise information as to the configuration of the brass sheets and strips because the alloys that we have in stock vary. If a particular quality of the material is important to you, please inquire before ordering. The pre-cut strips may be lightly scratched because they are stored and delivered without any protective film.

Furthermore, please note that no exchange is possible in the case of products cut from rolls and pre-cut pieces.