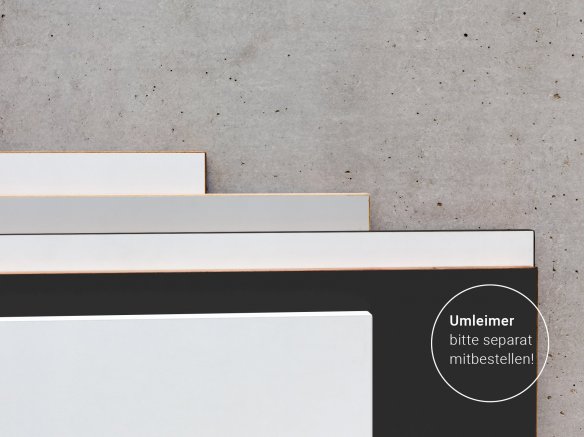 very economical
high quality edge finish
19mm and 28mm thicknesses
12 different edgings to choose from
Surface

semi-matte (smooth) or orange-peel finish (rough)

Coating

both sides coated with laminate (melamine resin impregnated paper as basis))

Tabletop core

certified chipboard

Edge

ABS edge band or real beechwood band, please select separately
In addition to the standard sizes, we now offer custom cutting on all our melamine resin coated tabletops so you can determine your own size in order to satisfy your needs. You can combine all the tabletop grades or versions with any of the different edge bands: for example, you can order a white 28 mm tabletop cut to the dimensions 2353 x 1151 mm in combination with a black 2 mm ABS edge band!
The core of these tabletops consists of a certified piece of chipboard. The raw materials are regularly examined and tested by the renowned Fraunhofer Institute for Wood Research WKI. The variety of edge bands includes plastic ABS bands that are the same colour as the tabletop as well as a nice selection of real wood bands. Please note that the edge bands must be selected separately and that your selection can only apply to one custom cut size. The real wood edge bands are raw wood, the surface having not been treated. They can, however, be nicely sealed with hard oil or worktop oil from the company Biofarben.
While the 28 mm tabletop can be used without employing a supporting rail, the thinner versions are primarily meant for rail-framed (apron framed) tables like the Modulor M and E2 table systems which provide the thinner tabletops with additional support. For the longer versions of the E2 table frame (1350 mm) we have on offer so-called tabletop supporters that make it possible to lay a 19 mm tabletop on the E2 frame. If you are only using the shorter version of the E2 frame (1000 mm), the 19 mm tabletop can be used without any other accessories. We do, however, recommend that for our folding table frames and screw-on legs you should definitely use the 28 mm thick tabletops even in the case of smaller tables.
All the melamine resin coated tabletops in our assortment have either a semi-gloss, smooth surface or a fine-grained  (granulated) orange-peel finish which is better at hiding wear and tear.
INFO
The production techniques used for custom cutting the tabletops restrict us to only being able to guarantee one faultless A side. Lightly damaged surfaces of the B side cannot be ruled out and cannot be used as grounds for complaint or product return. Please examine the surface upon receiving your tabletop and determine the top (showing) side of the top before you mount it on your frame.
Coloured tabletops can be found among Linoleum tabletops.
Melamine tabletop custom cutting
7 Variants
standard sizes
custom cutting
Note
Please note the following limits when entering your tabletop dimensions: 1000 x 2750 mm means that up to a width of 1000 mm the maximum length can only be 2750 mm; 1400 x 2500 mm means that up to a width of 1400 mm the maximum length can only be 2500 mm