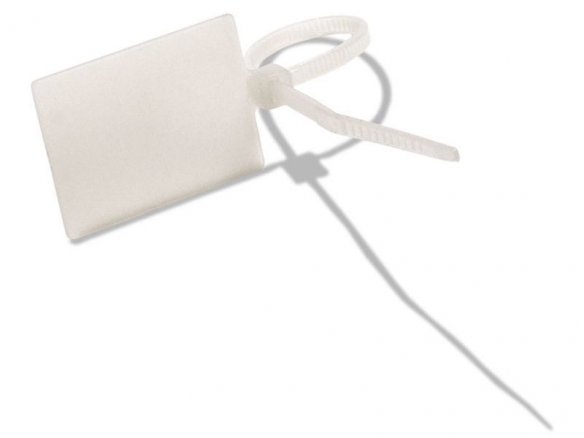 Polyamide 6.6, natural colour, not removable, tensile strength 8 kg, temperature resistant from -40 °C to +80 ° (short term up to 160 °C), good resistance to organic solvents, oils and greases; given dimensions: length x width, maximum cable bundle diameter, size of label
The marker ties are the perfect method for quickly and easily identifying cable bundles, sacks, bags or the like. The label field can be written on with a film pen (e.g. STAEDTLER LUMOCOLOR) or supplied with adhesive labels (e.g. HERMA ADHESIVE LETTERS/NUMBERS or HERMA MULTI-PURPOSE LABELS).
The standard cable ties can be employed without the use of tools; once engaged at the teeth the tie can only be pulled tighter and cannot be opened again. Removal must then be done by cutting them with a pliers or a scissors.
Marker ties, 130 x 2.5 mm, ø 25 mm, tab 28 x 20 mm, 100 pieces