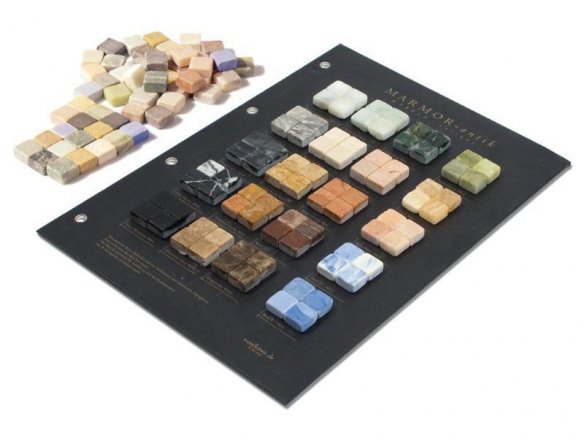 15 x 15 x 8 mm, insensitive to temperature swings
Marble is the most classic and longest used material for making mosaic tiles. None of the tiles, which are cut from marble blocks and panels, have the same colour and grain as another, a fact that gives to marble mosaics a particularly unique and lively appearance. The marble mosaic tiles that we have on offer come from quarries from all over the planet.
marble
Attributes: Marble itself is not frost resistant but, by virtue of the smallness of the mosaic tiles, cracks caused by frost are unlikely provided that frost resistant glue and a corresponding joint compound is used. A higher resistance to frost can be achieved by the use of the COLOUR BOOSTER which seals the surface of the tile and prevents moisture from penetrating it.
Treatment: The marble mosaic tiles can be cut with a mosaic pliers or just a normal pincers or pliers (use protective eyewear, e.g. SAFETY GOGGLES!) and affixed by either the direct or indirect method as described in the section "Mosaic Tiles and Accessories". Before grouting the tiles, their surface can be treated with colour booster. This treatment enhances the natural colours of the tiles and has the additional effect of protecting them against soiling.
The colour booster should be sparingly applied with a brush and any excess liquid removed by means of a dry cloth. Be sure to provide good ventilation during and after the work on your mosaic. After the grouting process, a thin coat of stone wax can be applied with a lint-free cloth. After about 2 hours, the surface can be polished with an appropriate brush and a soft silky lustre will be achieved. The use of either colour booster or stone wax, or both, should mainly be determined by your desired results. Floor mosaics exposed to a lot of traffic, however, should definitely be treated with colour booster.
Marble mosaic tiles
Note
We have in stock only the colours shown here.

All the other colours that are shown in the sample chart can be ordered by the kilo (packaging unit) and delivered within 3 to 4 weeks. Don't hesitate to inquire.

Please note that the colour tones of the marble mosaic tiles can vary.

A complete catalogue depicting all the available products can be found under: MURANO GLASS MOSAIC TILES, UNICOLOURED.