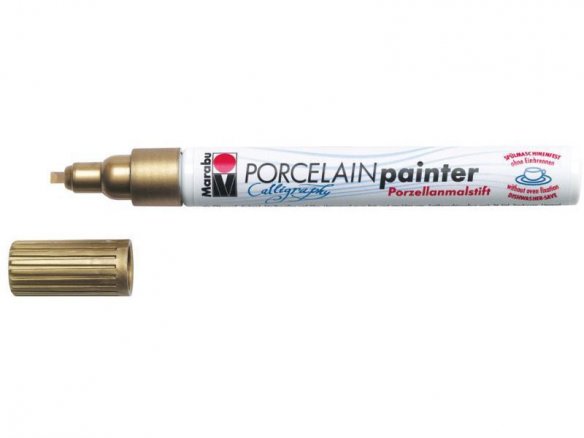 opaque water-based metallic paint, high gloss finish, dishwasher safe, plastic point, plastic barrel, cap is the colour of the paint, maximum dishwasher temperature is 50 °C
The Marabu Porcelain Painter pen is the ideal implement for writing and painting on porcelain, ceramic and glass. The paint is dishwasher safe after oven fixing (160 °C, 35 minutes) . It is advisable that when cleaning your painted objects the dishwater heat setting should be no more than 50 °C.
The universal tip of this pen is a practical all-rounder that is ideal for both painting and writing. In order to prevent the paint from eventually rubbing off at much used areas of your painted plates or glassware, we recommend that you avoid painting over cut-out designs on plates as well as the rims of glasses and cups. After use, tips that are filled or covered with paint must be immediately cleaned with water and dried. The pen should be stored in a horizontal position.
Marabu Porcelain Painter pen, metallic
9 Variants
Note
According to the manufacturer, the ability of the paint to withstand a dishwasher cycle (no matter what kind of print motif) is not dependent on whether you air dry or oven cure your object – although it should be noted that the paint will be more durable if indeed cured in an oven.