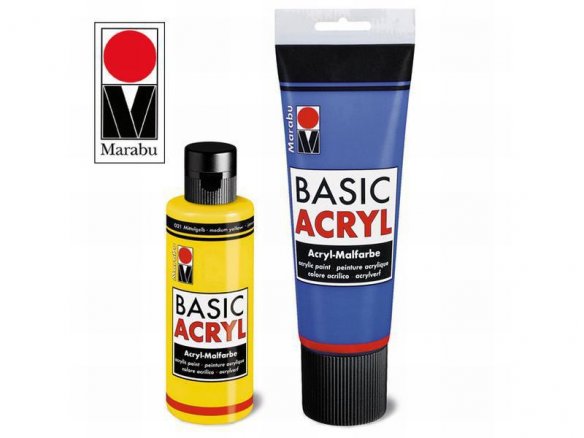 acrylic paint, semi-gloss, waterproof, quick-drying, set consists of: see the product information
Marabu Basic Acryl is a universally applicable acrylic paint with great coverage in brilliant, light-fast colour tones. The silky-matte paint is wonderfully creamy and therefore easy to apply. Using a brush or a paint spatula or paint knife, it can be applied in all the acrylic techniques onto canvas, paper, cardboard, wood, self-curing modelling materials and many more surfaces.
All the colour tones, (including metallic) are miscible with one another - the colours cyan, magenta and yellow enable the mixing to be done chromatically. The paint can be thinned with water and dries quickly to a waterproof coating that can be fairly quickly painted over.
Set designation

Colours in Set

Set of 6 each 80ml cans in a box

medium yellow (021), carmine red (032), medium blue (052), sap green (067), white(070), black (073)

Set of 10 each 25 ml cans in box
magenta (014), yellow (019), carmine red (032), medium brown (040), medium blue (052), cyan, (056), sap green (067), white (070), black (073), fir green (075)
Marabu Basic Acryl, acrylic paint
55 Variants