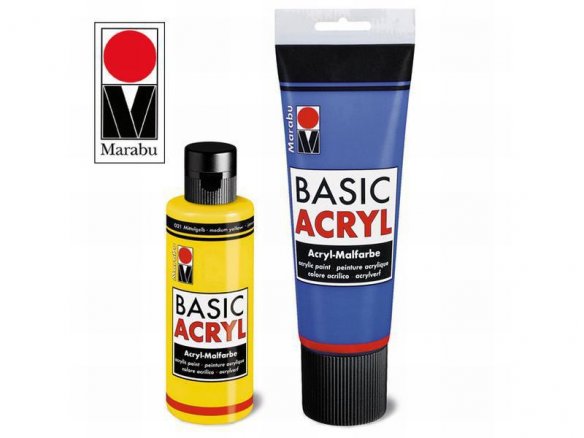 acrylic paint, semi-gloss, waterproof, quick-drying, set consists of: see the product information
Marabu Basic Acryl is a universally applicable acrylic paint with great coverage in brilliant, light-fast colour tones. The silky-matte paint is wonderfully creamy and therefore easy to apply. Using a brush or a paint spatula or paint knife, it can be applied in all the acrylic techniques onto canvas, paper, cardboard, wood, self-curing modelling materials and many more surfaces.
All the colour tones, (including metallic) are miscible with one another - the colours cyan, magenta and yellow enable the mixing to be done chromatically. The paint can be thinned with water and dries quickly to a waterproof coating that can be fairly quickly painted over.
Set designation

Colours in Set

Set of 6 each 80ml cans in a box

medium yellow (021), carmine red (032), medium blue (052), sap green (067), white(070), black (073)

Set of 10 each 25 ml cans in box
magenta (014), yellow (019), carmine red (032), medium brown (040), medium blue (052), cyan, (056), sap green (067), white (070), black (073), fir green (075)
Although the process for producing acrylic resin was patented as early as 1915, dispersions (dispersed particles suspended in a medium like water, gas, air) made with acrylic resins were not developed until the 1930s or industrially produced until around 1950. They were initially created as paints and varnishes for businesses, industry and households and also utilized for mural painting. They weren´t introduced in the European market as artist´s paints until the beginning of the 1960s. The further development of acrylic paints was directly influenced by adventuresome painters like the Mexican mural painters or American Pop-Art artists like Roy Lichtenstein or Andy Warhol.
The specific attributes of acrylic paints are determined by the use of pure acrylic binder systems. When wet, the binding agent is milky white and at first optically brightens the colour upon application. Only after having dried does the colour reveal the intensity of the pigments used in its making. Even thick coats of acrylic paint dry without developing cracks and are permanently elastic, waterproof and age-resistant as well. In contrast to oil and watercolours, acrylic paints can be applied to practically any clean and grease-free surface, e.g. canvas, paper, plaster, leather, metal and wood. Acrylic paint is water-soluble and can be removed with a wet cloth (as long as it is still wet!) – in addition, your tools and hands can also be cleaned with soap and water. These paints are practically odour-free, non-flammable and non-hazardous to your health.
Their uses cover a broad range: when thinned, they can be applied to produce a glazed effect like watercolours (and waterproof to boot!); when applied in a pasty consistency, relief-like surface textures can be achieved (just like oil paints!).