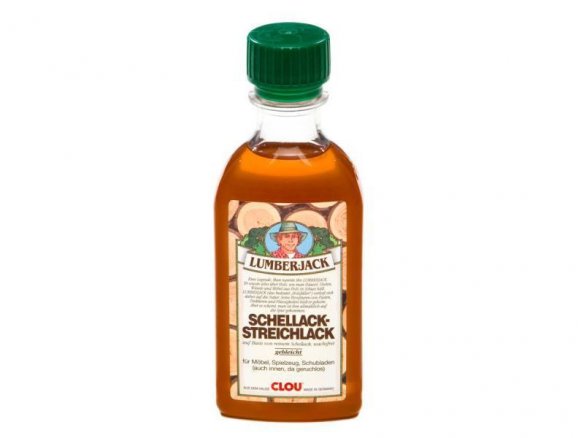 natural resin solvated in denatured alcohol, wax-free, glossy, no odour after drying, non-toxic, biodegradable, conforms to European safety norm EN 71-3 (toy safety) and the requirements under the § 35 of the German Food Law (formerly DIN 53160), hazard warning: F = light inflammability
Shellack coating varnish is made from a resin secreted by the female lac bug and is a natural alternative to customery wood varnishes. It can be thinned with alcohol and provides woods in indoor areas a glossy, hard, waterproof surface that will resist the effects of dirt and corrosive influences. Before applying shellack the wood must be sanded with 180 grit sandpaper and all dust removed. After the first coat of varnish has dried a second sanding should be done with 240 grit sandpaper and a second coat applied.
Shellack can also be used as an alternative undercoat for gold gilding. The advantage of shellack in comparison with normal topcoats is that characteristics of the gold will not change much because the shellack can be applied in a much thinner coat. One disadvantage, on the other hand, is that it does not provide protection against abrasions. Also, although shellack is not water soluble it is still sensitive to moisture, which makes it unsuitable for outdoor use. Besides its use as topcoat, shellack can also serve as a sealer for absorbent surfaces like chalk or plaster. A MOTTLER BRUSH or a SYNTHETIC BRISTLE BRUSH, FLAT can be used for applying shellack for gilding work purposes because they are able to produce a thin coat with no streaks.
Lumberjack Shellac coating varnish 250 ml, wax-free, colourless and transparent