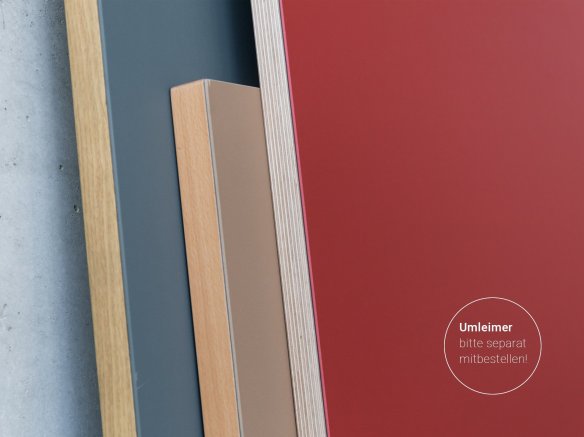 FORBO Furniture Linoleum is a natural material with a pleasant warm ,soft texture and is very durbale as well.
The DESK TOP collection consists of 30 elegant colours
11 different real wood edgings are available
Location of cable opening can be specified
Core is laminboard (spruce) with particle board decking on both sides (3 mm), top side laminated with coloured linoleum (2 mm), back side is coated with counteracting paper (stabilizing layer), various edge bands available (th = 2 mm, w = 28 mm, overlapped by the linoleum)
The linoleum table tops consist of a laminboard with particle board decking on both sides which has been obtained by our supplier especially for the production of these tabletops. These boards are then covered on one side with 2 mm of linoleum in a process involving high temperatures and pressure. During this process the 2 mm thick edge band is worked into the edges in such a way that on the top side it is covered by the linoleum layer.
Linoleum is made from renewable raw materials such as wood, granulated cork, linseed oil and jute. Its homogeneous, matte but nevertheless non-slip surface is perfect for drawing or writing but still has enough textural resistance that a computer mouse functions on it. They make, then, great writing tables but can be used as shelving or kitchen counters as well (heat-resistant up to 70°C - short term).
The material feels good to the touch, has anti-bacterial and antistatic properties and conducts electricity (its bleeder and contact resistance is between app. 109 and 1010 Ω). Because of these attributes, linoleum covered table tops are perfect for use in the therapeutic and technical realms.
If you want the colour of the edges to be the same as that of the linoleum you can order a plastic edge band (ABS) with the matching colour. This will be charged out at a flat rate price per tabletop – this is also the case with the exotic wood edge bands (cherry, walnut, wenge, zebra wood). The standard wooden edge bands (beech, birch multiplex, maple, oak), it should be noted, are included in the price of the tabletop.
The colour of the linoleum coating that you see at the time of delivery will change slightly with time. The reason for this is the light yellow "drying-oven film" which will eventually disappear after the coating has been out in the daylight for a number of hours.
Care and cleaning of linoleum is best done with special agents like Harell care and cleaning set for linoleum, which, together with comprehensive instructions for use, can be found in our range of goods.
Linoleum tabletop custom cutting
22 Variants
Note
Along with the colour of the linoleum, please choose your desired edge band as well. Please note that for the colours olive-grey 4169, medium blue 4140 and violet-grey 4172, no (exact) fitting edge band is available; it is therefore recommended to select a plain wood edge band instead.

When ordering a custom cut without remainders you can choose any size you want. The delivery time in such cases is approximately 4-5 weeks because the order must be specially cut to the customer's specifications. In the Modulor online shop the minimum order requirement for tops is 0.5 m², for smaller sizes please inquire.

Please note that for oversize packages the actual costs incurred for shipping and handling will be charged (for further information see: SHIPPING + HANDLING).
Accessories and Related Products