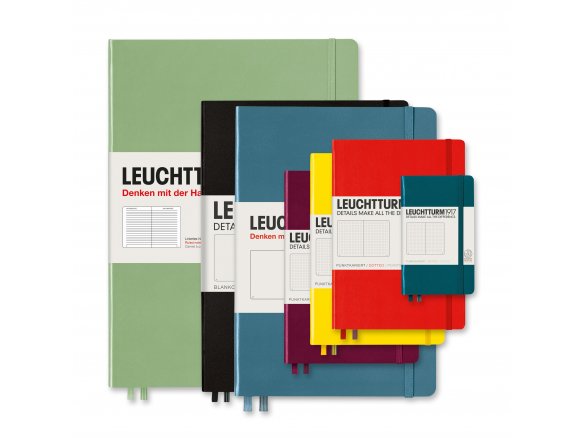 Material

cream white paper

Surface

matte

Paper grammage

medium: 80 g/m², Master Slim: 100 g/m²

Sheets

numbered, medium size: 249 sheets; Master Slim: 121 sheets

Lineation

dotted, first page with table of contents

Binding

thread stitching

Cover

hard cover, black, rear cover has cardboard pockets

Fastener

flat elastic band, black

Accessories

bookmark, labeling stickers, 8 sheets are perforated
This is the real classic of the notebook world - and now available with dots instead of lines! The advantage of dotted "lines" that are barely visible is that the grid allows you to write in an orderly manner but also leaves open the possibility of just drawing or sketching as you like because it really can be mistaken for a blank page. This notebook, then, can be used to record all different kinds of thoughts, designs and other creative ideas.
Both versions have the classic sturdy cover with an integrated expandable pocket, a elastic enclosure band, bookmark, 8 perforated sheets for easy removal and a blank table of contents. In addition, there are stickers provided that can be applied to the cover and the rear cover for labeling and archiving purposes.
The Leuchturm Medium notebook (size DIN A5) is equipped with high quality, cream-white 80 g/m² paper in the form of 249 numbered and dotted pages (124 sheets).
The Leuchturm Master Slim notebook (size A4+) only has 121 numbered pages (=60 sheets) which means that it is easier to carry with you despite the size of its pages. This beautiful notebook, which also has dotted pages, has durable 100g/m² paper that allows you to do your sketching and writing with ink without any further ado. The expandable pocket inside the cover is big enough to carry A4 sized paper.
Leuchtturm notebook, hardcover
17 Variants