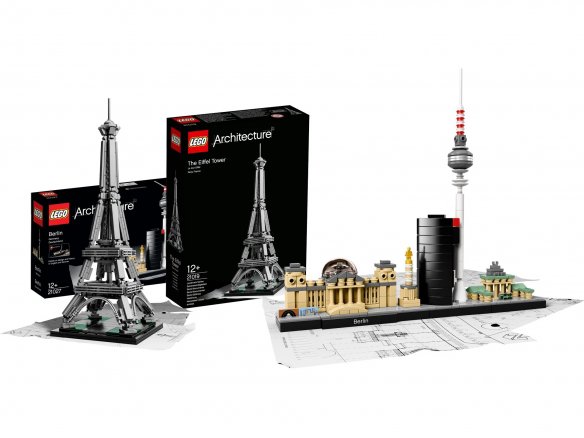 accurately detailed model made from Lego building bricks, interlocking, ABS plastic (acrylonitrile butadiene styrene), coloured, includes brochure (in English!) detailing facts about its design and history as well as its architect; model design: Adam Reed Tucker, given dimensions: l x w x h
Lego Architecture is a model building series for fans of architecture. Famous buildings from all over the world can be replicated in the typical Lego style and can then serve as an eye-catching element on a shelf or office desk. In addition, an accompanying booklet provides important details concerning the design, the history and oftentimes the architect himself:
 Commissioned by King Friedrich Wilhelm ll of Prussia as a sign of peace, the Brandenburg Gate, which was designed by the architect Carl Gotthard Langhans (1788 – 1791), is one of Berlin's most important monuments. The Lego model is approximately 225 x 85 x 90 mm (8.8 x 3.3 x 3.6 inches) in size and, with its 363 pieces, is suitable for children 12 years old and up.