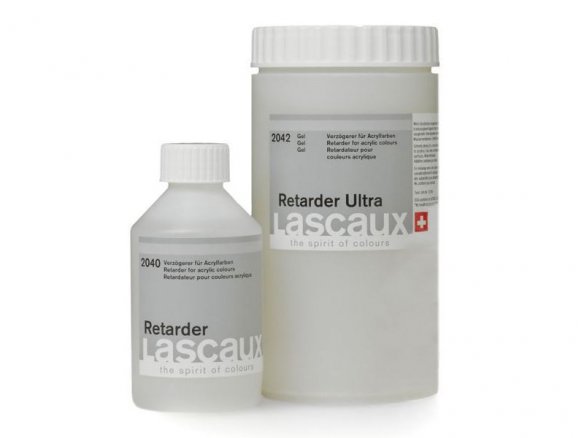 retards the drying time of acrylic paint, acrylic polymer in water/propranediol mixture, colourless transparent, pasty consistency, thinnable with water (up to 1:10), additive amount for acrylic paint: 10-30%, shelf-life when unopened (without exposure to direct sunlight): limitless; physiologically and toxicologically harmless
The Lascaux Retarder and Ultra Retarder slow down the relatively fact drying of acrylic paints and increases their working time (the Ultra Retarder up to three times more than the regular retarder). Adding them also reduces the evaporation speed of the water portion and has the effect that any acrylic paint that has already dried can still be solubilized with water or a fresh application of paint for about an hour (with the Ultra Retarder even more hours!). This can be particularly useful when engaging in the wet-in-wet technique. Please note that the retarder will also of course lengthen the time required for your paint coat to completely dry.
Both of these painting mediums will not change the hue of your paint; the Ultra Retarder only changes the viscosity of your paint a small amount.
These retarders are only for use when painting on non-absorbant substrates. We do not recommend their use outdoors because the paint will stay soft and water-sensitive for a longer time, which increases the chances that in the case of rain your paint will tend to swell to a troublesome degree.
Lascaux Retarder
4 Variants