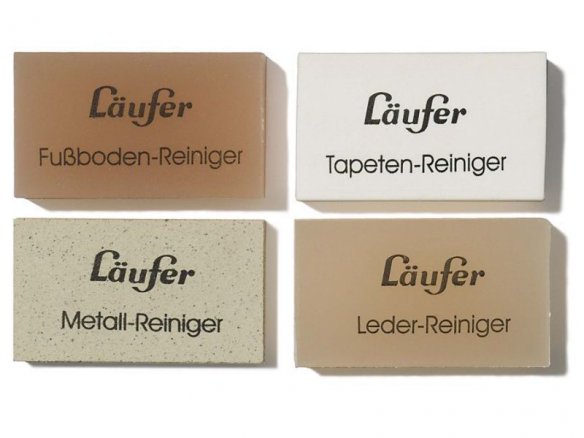 3 tapered synthetic erasers (30 x 50 x 17 mm); 1 natural rubber eraser, rectangular block (metal cleaner, 30 x 50 x 10 mm), comes in plastic box
No home should be without this practical cleaning set because its areas of use go far beyond those mentioned on the erasers themselves.
For instance, the leather cleaner is not just good for servicing suede and smooth leathers but is a proven remedy for coloured pencil markings on painted walls or for cleaning worn wood as well.
The strong abrasive metal cleaner can remove difficult stains, can rough up surfaces or polish metals. Even ballpoint pen markings can be removed from paper.
The wallpaper cleaner will reliably remove spots, the markings from coloured and wax artist pencils as well as label residues. In addition, pencil markings can be removed from sensitive paper.
The versatile floor cleaner can remove unwanted markings from parquet, wood and plastic surfaces.
Further cleaning experiments are allowed!
Läufer Clean eraser set, 4 different erasers