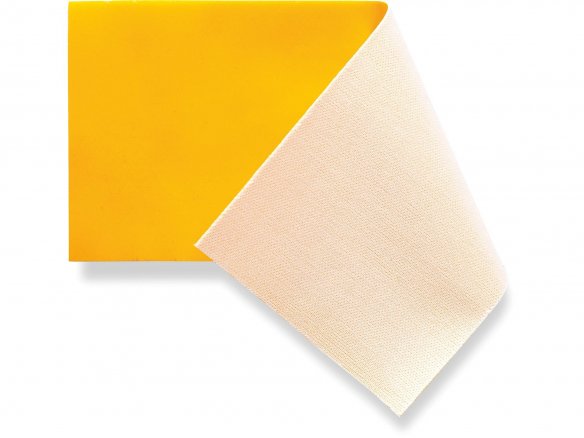 polyester fabric with polyurethant coating (80% PES / 20% PU), ca. 180 g/m²; coating: monochrome, glossy; fabric: beige, matte, waterproof, washable (hand wash 30 °C), no protective film
In general, the name wax cloth or oilcloth originally referred to a waterproof natural fibre fabric (cotton, flax/linen, jute, etc.) that has been impregnated with varnish or oilpaint to make it completely waterproof and was usually used to pack things so they would be seaworthy. Although nowadays plastic films and foils are used for that purpose, the term "wax cloth" or "oilcloth" has stayed in use.
Lacktex is a monochrome, PVC-free oilcloth variation that not only has a washable surface but is itself washable at 30 °C (handwash with delicate detergent). It can not only be used as a tablecloth or shower curtain but can also be used for all sorts of creative projects like: covering furniture, sewing handbags, crafting decorations, etc. This material can be cut with a scissors or a cutter. Lacktex does not take well to being glued so that it should be stapled or sewn (use a Teflon sewing foot) instead.
Lacktex oilcloth, monochrome
7 Variants
Note
Please note that no exchange is possible in the case of products cut from rolls and the minimum order for products sold from rolls is 0.5 running metre.