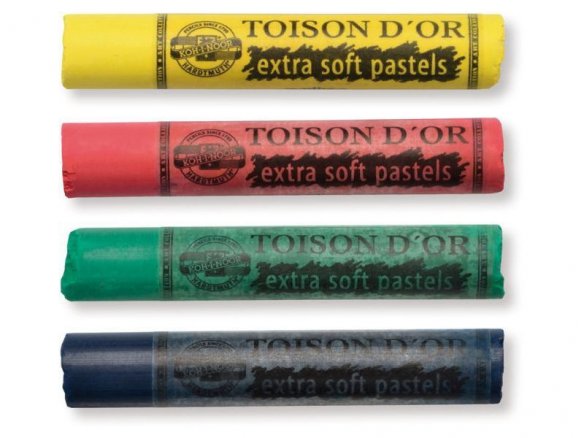 round with 12 mm diameter, l = 75 mm, has paper band, oil-free, can be blended with water (aquarelle effect)
Pastels (chalks) are actually pure, fine colour-powder, a consistency that makes it possible for you to apply colour in a dry process or to apply a tinge of pigment to paper. It also takes well to being smudged or blurred if you want to optically mix colours or create other effects. So as to make it more practical to use, a binding agent is added to the powder and a writing instrument is formed – sometimes jacketed in wood, sometimes only wrapped with a paper band or even just left naked and carefully packed in a padded box.
The round Toison d`Or 8550 chalks are produced with the type of quality demanded by artists, having as they do excellent non-fade properties and brilliant colours. They are wrapped in a paper jacket and, by virtue of its softness (small amount of binding agent), produce especially strong colours when rubbed on the page.
As would be expected, the adherence of the chalk to paper or cardboard is fairly weak. For this reason you should not wait until you are finished to fix the chalk but rather do this "as you go" during the work. All types of paper and cardboard can be used with chalks while keeping in mind that darker substrates produce the best results. CHARCOAL is the usual choice for making preliminary drawings if such are necessary. After application, the charcoal should be wiped away with a broom or rag to the greatest possible degree so as to avoid it having too great an affect on the subsequent pastel chalk colours.
Koh-i-Noor Extra soft pastels Toison d´Or 8550
51 Variants