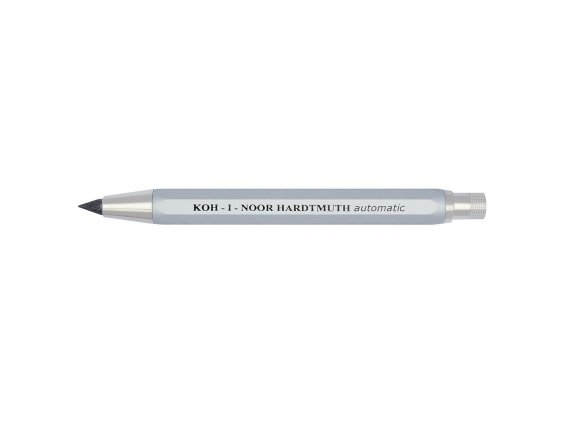 metal tip, hexagonal metal barrel, l = 120 mm, unscrewable push-button contains lead sharpener, includes lead
The are clutch pencils and mechanical pencils: with clutch pencils the lead continues to fall out of the "clutches" until the pushed button is released; mechanical pencils, on the other hand, have an automatic feeder – one press of the button pushes a small piece of lead out of the tip.
This pencil is special because of its high weight on the one hand while on the other even though it looks like a clutch pencil it in fact has a push-button mechanism in the barrel that regulates the amount of lead being fed in steps (each push). The Automatic 5640 is perfect for anyone that really likes a drawing or writing utensil that is as heavy as lead but sits in the hand like a steel piston.
Koh-i-Noor Automatic metal mechanical pencil 5640, for ø 5.6 mm leads, anodized silver, matte