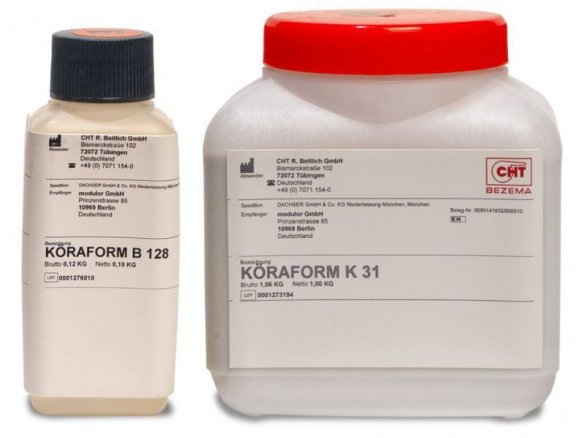 condensation-crosslinked silicone rubber moulding material, medium soft (ca. 23 Sh-A), highly elastic, very high degree of mechanical rigidity, low-viscosity (pourable), white and opaque when cured; mixing ratio of components A to B is 100:2, working life is approximately 60 minutes, de-moulding time is approx. 20 hours, shelf life with proper storage is at least 6 months
Condensation-crosslinked silicones distinguishe themselves from addition-crosslinked silicones in that the former have greater stability than polyurethane and polyester casting resins and the latter do not. Köraform K 31, because of its good mechanical attributes, is great for making precise moulds from master forms with very few undercuts or indentations or ones that are not very pronounced. Its stability allows it to be used for large moulds.
The air exhausts out of the K 31 very well because it has a relatively long working life – it also pours very well. This silicone should not be worked with under temperatures of 20 °C because its excellent mechanical attributes could suffer as a result. When storing condensation-crosslinked silicone, special attention should be given to tightly closing the B component.
For moulds of vertical surfaces (e.g. large sculptures) the additive ALPA TIX C can be employed in order to hinder thixotropic attributes (decreasing viscosity under stress), which will help with the problem of the silicone running because of gravity.
The maximum mechanical attributes are arrived at after three to seven days (completely cured).
Köraform K 31 100:2 moulding material
Note
This product consists of 2 components (polymer and curing agent) that must be mixed in a ratio of 100 (A):2 (B). Please note: the size of the containers does not reflect the mixing ratios!

Please also note: we can only ship large amounts of this product with a forwarding agency – this will result in higher shipping and handling costs.