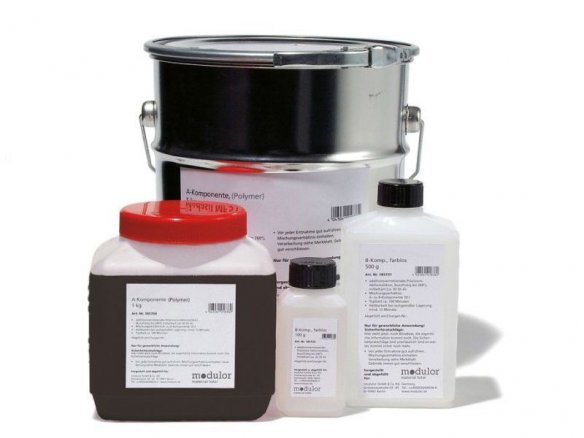 addition-crosslinked precison casting silicone that is temperature-resistant (short term up to 250 °C), medium hard (approx. 43 Sh-A), highly elastic, good mechanical stability, low viscosity (pours well), cures to an opaque black colour, mixing ratio of component A to B is 10:1, working life is approx. 45 minutes, de-moulding time is approx. 12 hours, shelf life with proper storage is at least 6 months (both A and B components)
Its temperature resistance makes Köraform A 50 T especially good for making exact moulds from objects which are to be reproduced with low melting point metals (e.g. tin). In fact, silicone without filler is not really more resistant to high temperatures than other comparable silicones – but because Köraform A 50 T has special fillers it is able to dissipate high temperatures much better and therefore ages that much more slowly. Moulds made from Köraform A 50 T have, then, a longer service life if very hot materials are used in the reproduction process.
Nonetheless, contact with very hot substances causes an embrittlement process in all silicones which in turn causes an increase of their Shore hardness, the degradation of their mechanical resilience and long-term loss of their self-releasing attributes.
Its good mechanical attributes make Köraform A 50 T an excellent choice for making exact moulds of complicated master patterns with undercuts. Because of its greater Shore hardness, larger objects can be moulded without the need for a support mould. Because of its relatively high viscosity, we recommend the use of a vacuum forming machine for the removal of bubbles formed in the mixture.
Köraform A 50 T 10:1, component A (polymer) 1.0 kg in PE container
Note
This article is identical to Modasil MF 5 T 10:1, only the name has changed.

Please note that we can only ship large quantities of this article per forwarding agency which means that there are higher shipping and handling costs.

The product consists of two components (polymer and curing agent)!