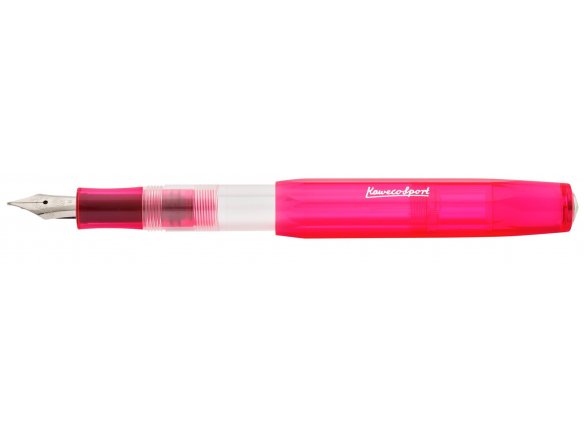 barrel and grip piece made from transparent, coloured, injection moulded ABS/Terlux, chased stainless steel nib with iridium tip, silver, M width; length of pen when closed is 105 mm, includes 1 blue ink cartridge; compatible cartridges in our assortment: Kaweco ink cartridges
The Kaweco company (Koch, Weber & Co. Heidelberg) was founded in 1883 and is thereby one of the oldest companies in its sector. It has continued on into the present to successfully combine tradition and innovation in the making of high quality writing utensils. The Kaweco pens are very well known and immediately recognizable because of their octagonal shape and the round metal logo "KA WE CO" on the end of the barrel.
The super high quality chased nibs (and regulator) for these pens are manufactured by the traditional Heidelberg company Peter Bock AG, while the intensely coloured inks, which are also of the highest quality, were developed in an ink laboratory especially for Kaweco.
The Kaweco Ice Sport is a modern, transparent coloured version of the Classic Sport model from Kaweco. As with that model, this one has the compact length of 105 mm (when closed) and, with the cap placed on the rear of the barrel, sits very nicely in your hand when writing with it. That you can actually see the "inner life" of the pen through the transparent plastic is pretty cool as well. A beautiful PEN CLIP for holding the pen in your breast pocket or on a notebook is available separately and can be easily attached to the Ice Sport for these purposes.
Kaweco Ice Sport fountain pen, transparent pink