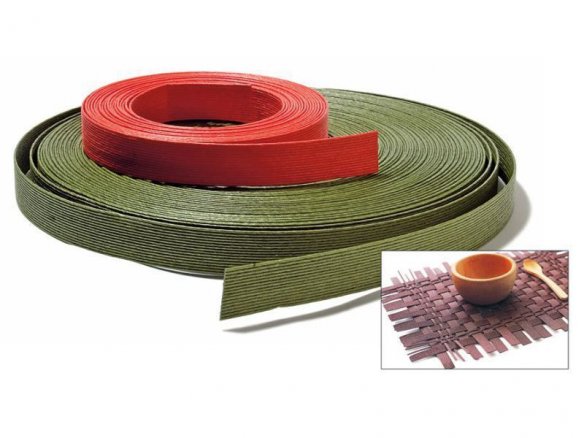 made from tear resistant washi paper, colour-fast and moisture resistant paper strings (ø approx. 1.0 mm) are glued together with solvent-free adhesive (not waterproof) to make bands, solid coloured
Kamihimo is a special paper from Japan with which, by means of various joining techniques, artistic and also practical things like mats, baskets or lampshades can be produced. This wide, flat and sturdy band consists of paper strings made from Japanese "washi" – an especially sturdy and tear resistant paper - that are glued to one another (kami = paper, himo = string) on a plane. The bands themselves are not only colour fast (they will not run when wet) but moisture resistant as well (which means that when wet they are still extremely resistant to tearing). What is not waterproof, however, is the natural glue that is used to make the strings into a band. The Kamihimo paper bands can be treated with transparent acrylic paint (e.g. MARABU TRANSPARENT VARNISH, COLOURLESS) in order to achieve a greater light fastness and moisture resistance.
Especially beautiful things like, for example, place mats, coasters or whole baskets and bags and even furniture can be produced by means of plaiting; when different colours are used together, wonderful effects can be created. Kamihimo can best be glued with wood glue like, for example, PONAL ,while especially solid and simple joining can be achieved by means of staples. Different widths can be created by simply splitting the bands at the point between the individual strings. When doing so, you should not use a knife that is too sharp because it will be too easy to cut right into the string itself. Most suitable are, for example, normal table knives with serrations or you can use an AWL or a FOLDING BONE from our bookbinding supplies.
Because these paper bands can be joined by means of very simple techniques and are also made from material that is not hazardous to health, children can be allowed to do handicrafts with it. The production of Kamihimo is environmentally friendly and it is totally bio-degradable.
Kamihimo paper tape, coloured, th=app. 1.0 mm, w=app. 19 mm, 30 m/roll, med. blue