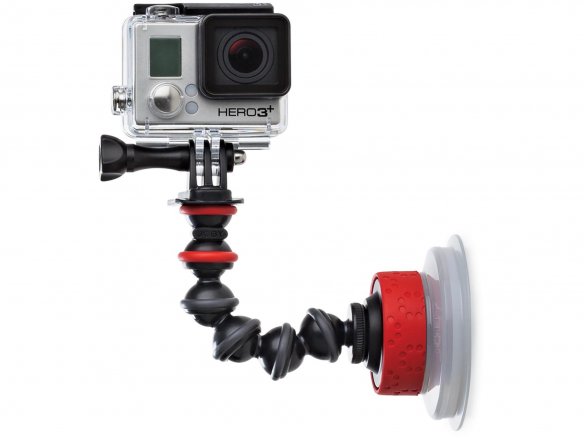 For action video cameras, including GoPro adapter
Suction cup for smooth surfaces
Adjustable
Ø suction cup

80 mm

Length of foot

150 mm

Weight

110 g

Colour

black/red
The set consists of a suction cup, a GorillaPod arm and a GoPro adapter. The suction cup and the GoPro adapter are connected to the GorillaPod Arm and can be swivelled in any direction by means of a ball joint.
Suction Cup:
The extremely strong suction cup provides a secure holder for Action Cams on smooth, non-porous, clean surfaces like glass, painted or varnished metal, automobile interiors, etc.
If you unscrew the GorillaPod that comes attached, a standard 1/4 inch threaded screw is revealed and can be used accordingly for other purposes.
GorillaPod Arm:
The ball joint makes it easy to quickly position the camera as you desire. The arm of the GoPro® Adapter can be removed, which then enables a quick switching between the different modules by employing the now available 1/4 inch standard thread screw.
GoPro-Adapter:
The adapter par excellance for the Action-Cams from GoPro.
Joby Suction Cup & GorillaPod Arm, GoPro tripod, 80 x 80 x 189 mm,suction cup for smooth surface