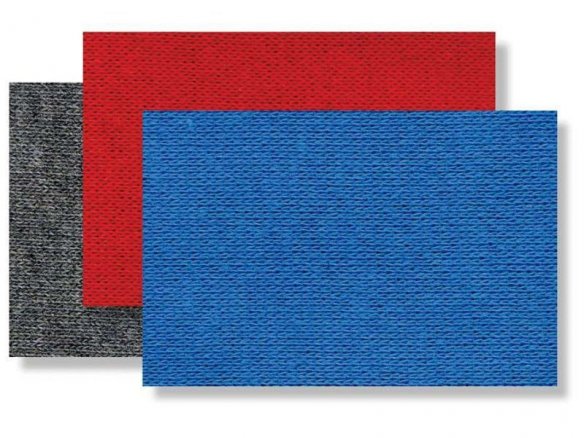 80% cotton, 20% polyester, 245 g/m², reverse side material is roughened, solid colour, cut edges barely frayed, machine washable up to 30 °C, effective width ca. 1470 mm, doubled over
In the 1920s, athletes in the USA were the first to wear during warm-ups or after playing or performing a fine knitted cotton pullover, whose inner side had a raised nap and was roughened. The roughened inner side of the material absorbed sweat extremely well and kept the athlete's muscles warm – which led to the name "Sweatshirt". Today, jersey sweatshirts are found being worn everywhere as streetwear, casual wear or children's clothing.
This wonderfully dense and warm jersey sweatshirt with its cozy, roughened fleece reverse side is shape-holding and a whole lot less elastic than normal cotton jersey.
A jersey needle is the best implement for sewing jersey (logic at its best!) - its blunt point will not harm the mesh structure of the fabric. In order to prevent the tearing of a seam upon stretching, we recommend that you use a zigzag or triple stitch or, alternatively, to work on an overlock machine. The cut edges fray only a negligible amount, which makes it possible to work with jersey without selvedge.
Care tips:
Washing should be done with organic detergent that has no brighteners or bleaching agents.
It can be washed by hand or machine at up to 30 °C, wash dark colours separately, do not machine dry, iron with a lukewarm setting (110 °C).
Jersey sweatshirt, monochrome (9628), w = ca. 1500 mm, cobalt blue (5)
Note
Minimum order: 0.5 running meter