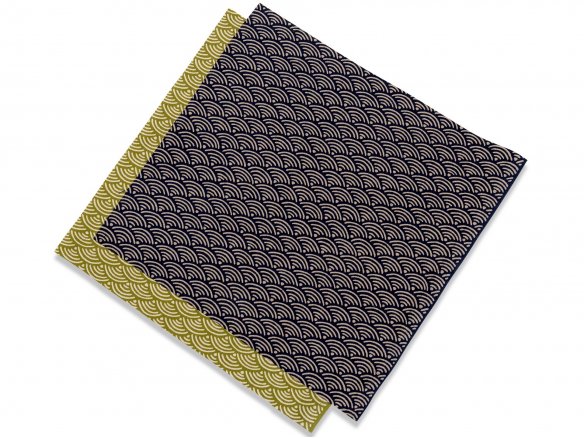 traditional pattern in various colours
printed on both sides
100% cotton
made in Japan
Material

100% cotton, smooth, printed on both sides

Colour

one side with cream-coloured WLAN symbols, one side white, on monochrome background

Dimensions

effective width ca. 1100 mm, doubled over

Care and maintenance

washable at 30°C (delicate detergent)
Seigaiha (Japanese for blue ocean waves) is a pattern consisting of overlapping lines shaped like concentric arcs (like a WLAN symbol!). They symbolize waves or water and stand for luck, strength and stability.
This design first appeared on a Haniwa (a tomb figure) from the Konfun Period (6th century BC) and has since then been used on fabrics, ceramics or, later, in graphic design. It is assumed that the origins of this pattern go back to a Japanese court dance in which the dancers are dressed in kimonos with wave patterns and make wavy motions with the sleeves.
This lightweight woven material is made out of cotton and has quadruple lines that are either white or cream coloured on a coloured background and is great for use in making clothes, kimonos, home decorations, accessories and bags or, alternatively, for doing quilting or patchwork type projects.
Japanese Seigaiha (undulating) kimono fabric
5 Variants
Accessories and Related Products