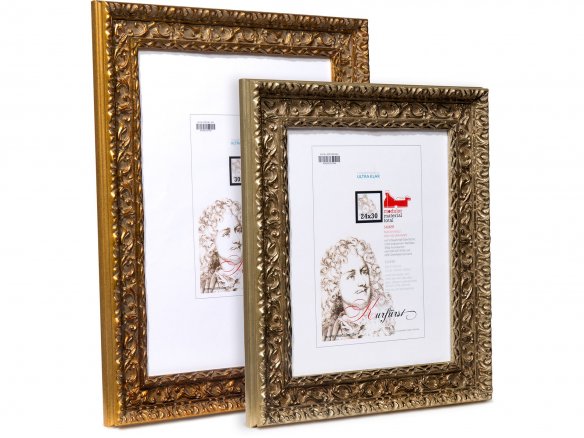 Profile width

54 mm

Profile height

32 mm

Frame sides

double stapled

Glass

2 mm thick ultra-clear low-iron glass with burnished edges

Rear panel

2 mm thick MDF, up to 18 x 24 cm has photoboard and wire stand, from A4 with riveted torsion springs

Intermediate layer cardboard

0.5 mm thick conservation board, age-resistant
We couldn´t help ourselves: Berlin, you see, is itself "fürstlich" (baronial), opulent, swaggering and sometimes even snooty. Our Kurfürst is meant to buoyantly take all that into account. Treat yourself to a little kitsch! Bauhaus and Le Corbusier are not the be-all and end-all. Quite the contrary in my opinion - which does not reflect the opinion of Modulor! We at Modulor use mouldings made of Brasilian spruce that is especially torsion-resistant whereby that beautiful gesso primer coat will hold up for a long time!. Made in Germany! (one "!" after the next!).
Kurfürst interchangeable picture frame, wood
6 Variants
240 mm x 300 mm
300 mm x 400 mm
400 mm x 500 mm
500 mm x 700 mm