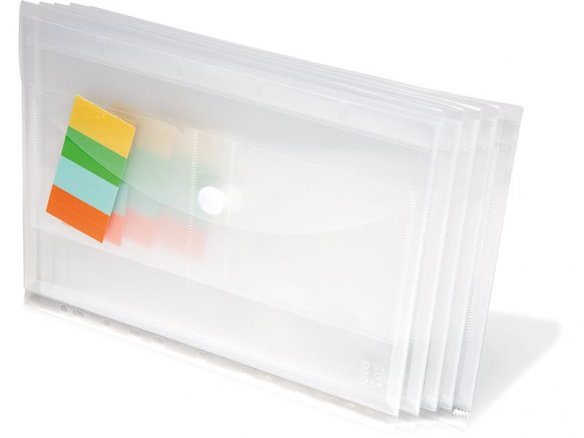 polypropylene (archival safe) transparent, colourless sleeves with diagonal grooves, filing strip with multiple punched (universal) holes, flap closure on the long side with Velcro fastener, with expansion fold, capacity up to 20 mm, sleeve contains two separate and welded CD holders, includes five separate slots where the colour index tabs can be inserted (includes 5 sets of tabs in 6 colours)
These index sleeves are very practical because they can serve as a container capable of holding up to 200 sheets of A4 paper and two CDs and the sleeves themselves can be filed in whatever order you desire. The very wide closure flap keeps both the sheets of paper and the CDs from slipping out of the sleeve. The five index tab slots provide the means for each sleeve to be quickly labeled and clearly assorted.
These sleeves are not only useful in your office but can also serve as a means to make separate collections of the paperwork from different projects or to create a private archive.
Index sleeves, PP with Velcro fastener, 245 x 310 for A4, transparent, colourless, 5 piece