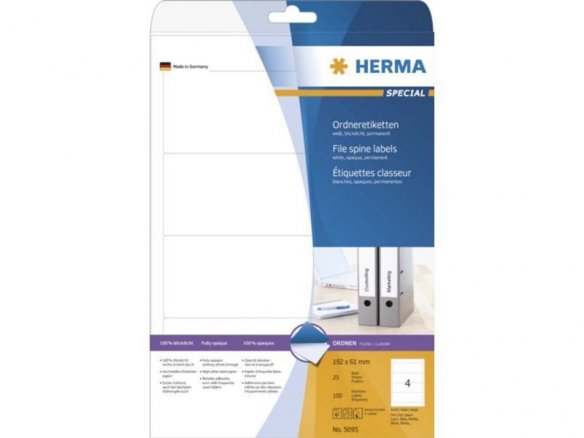 A4 sheets with many labels per sheet (given quantities: number of labels per sheet/sheets per package), white paper, chlorine-free bleached, for all printers and copiers (including colour copiers, colour laser printers and multi-function devices), solvent-free glueing coat, resealable climatic package
Herma Superprint labels and paper are the all-rounders of the Herma product line, working well with all PC printers and copiers (also colour copiers, colour laser printers and multi-functional devices). Alongside small packs of the most commonly used labelling formats, we also have on offer a small selection of large packs for customers with commercial requirements. 
The CD labels and the additional Maxi labels cover the entire CD and therefore have a particularly large writing field. Herma CD labels are the only ones that have an alignment aid which makes it possible to fit the labels exactly with the help of the jewel case. The CD covers that come in the combo-package with the CD labels can be placed in the jewel case with or without using glue.
Herma photo slide labels are equipped with a special adhesive which on the one hand adheres firmly while on the other can be easily removed.
The white Superprint paper labels have the PEFC (Program for the Endorsement of Forest Certification) certificate, which assures that the product comes from sustainably managed forests.
Herma Superprint labels (large pack)
6 Variants