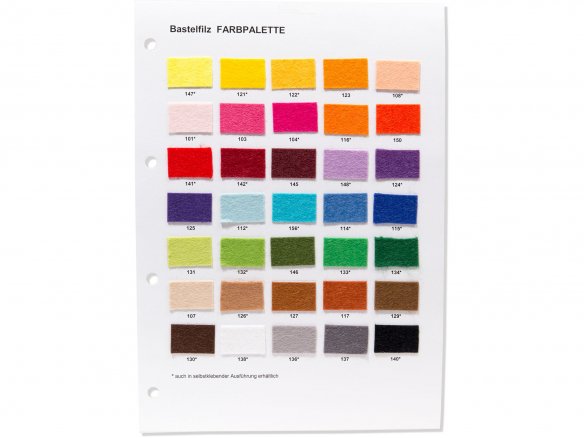 35% wool, 65% viscose, comes (1) in rolls with unfolded felt wrapped around a tube in widths of 450 or 900 mm and (2) in a 1800 mm wide version whereby the felt is folded in half and then "rolled" up on itself; conforms to DIN EN 71 (parts 2 and 3: toy safety), norm ISO 105 E04 (colour fastness to perspiration) and Oecotex Standard 100 (health safety)
This handicraft and decoration felt conforms to the European norm DIN EN 71, Part 2 and 3 (toy safety) as well as the ISO E04 (colour fastness to perspiration and saliva). It is also certified as conforming to Oecotex standard 100 requirements for health safety. This felt is therefore suitable for basic handicrafts work as well as for demanding decorations.
The 1.8 m wide felt is doubled over (folded in half and rolled up on itself) for delivery purposes. Because of its large width, this version of the felt can often be used to cover wall or floor surfaces as well as podiums and the like without having to sew any seams. Suitable products for laminary gluing work include transfer adhesives, DOUBLE-SIDED ADHESIVE FILM, contact glues (e.g. PATTEX) or SPRAY GLUES. When using glues containing solvents, make sure that they are allowed to adequately vaporize in order to avoid the glue bleeding through the felt. The SELF-ADHESIVE HANDICRAFT AND DECORATION FELT is a much easier product to use when gluing is involved.
Handicraft and decoration felt, colour chart, colour card with ca. 35 samples 20 x 30 mm
Note
The density of felts is often given by other suppliers in terms of g/running metre instead of the g/m² that we use.

The minimum order amount for products sold from rolls is 0.5 running metre. Please note that no exchange is possible in the case of products cut from rolls.

The 1800 mm thick version of this felt (in many colours) can only be bought as an entire roll.