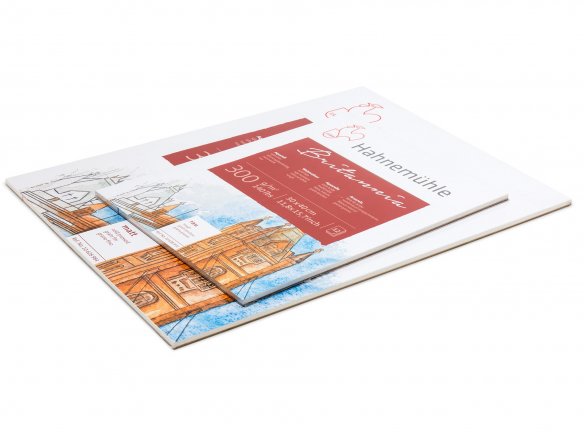 natural white artist´s board, matte (slight grain texture) or rough (course grain texture), acid-free, lightfast (non-fade), batch sized (internal), highly resistant to aging, gummed on all four sides, cover is printed paperboard, rear cover is cardboard
This pad of watercolour board with its natural white, acid-free paperboard is great for use with all wet painting techniques: watercolour including wet-in-wet painting, smooth wash and also dry painting and "lavis" painting (black and white ink watercolour painting). It is also great for gouache, tempera and acrylic painting. Because of its firmness and thickness, it is able to maintain its flatness even when wet. The hard surface makes the application of paint that much easier.
Hahnemühle Britannia watercolour board is available with a matte surface (lightly grained texture) or a rough surface (course grained texture).
Hahnemühle Britannia watercolour board, 300 g/mř
11 Variants