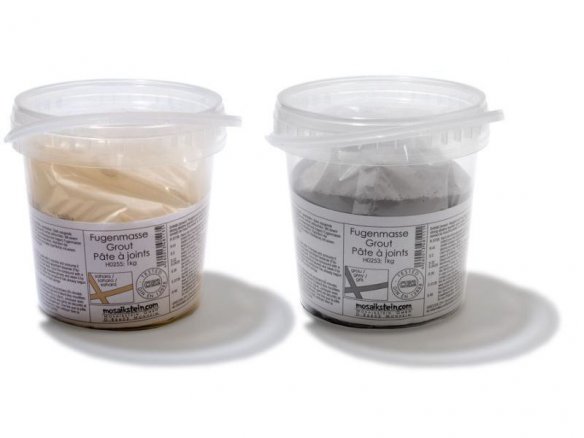 grout in powder form for glass, Ceraton, ceramics and marble, just add water, for interior and exterior (frost-resistant), needs approx. 1.0 kg for 1.0 m², CG2-quality
Description
Hazard warnings
This frost resistant grout was developed for all types of mosaics. It should be placed in a FLEXIBLE PLASTER CUP (or the bucket is used directly), mixed with water and stirred until a creamy consistency is attained, and then applied to the seams and drawn off diagonally with the help of the RUBBER GROUT SCRAPER.
Danger, Portlandzement und Zuschlagstoffe = 25 - < 50 %, Titandioxid = 3 - < 10 %, Eye Dam. 1, Skin Irrit. 2, STOT SE 3
Hazard warnings
H315: Causes skin irritation.
H318: Causes serious eye damage. (not needed beside H314)
H335: May cause respiratory irritation.
Safety instructions
P102: Keep out of reach of children.
P260: Do not breathe dust / fume / gas / mist / vapours / spray.
P280: Wear protective gloves / protective clothing / eye protection / face protection.
P301+P330+P331: IF SWALLOWED: Rinse mouth. Do NOT induce vomiting.
P303+P361+P353: IF ON SKIN (or hair): Take off immediately all contaminated clothing. Rinse skin with water [or shower].
P304+P340: IF INHALED: Remove person to fresh air and keep comfortable for breathing.
P305+P351+P338: IF IN EYES: Rinse cautiously with water for several minutes. Remove contact lenses, if present and easy to do. Continue rinsing.
P405: Store locked up.
P501: Dispose of contents / container to …
Grout for mosaic, PE bucket, grey 1.0 kg
Note
A complete catalogue depicting all the available products can be found under: MURANO GLASS MOSAIC TILES, UNICOLOURED.