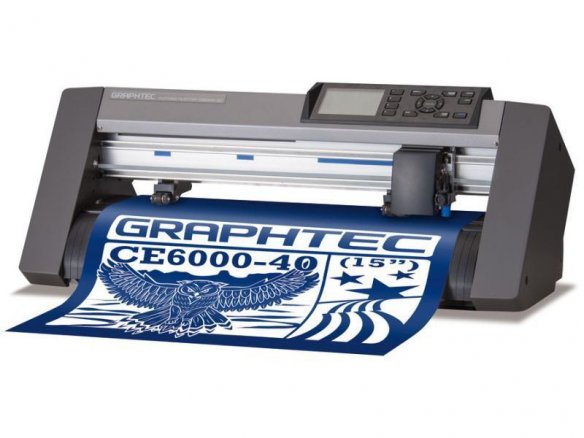 Metal/Plastic housing, graphic 3.7 inch LCD display and fifteen function keys (program in 10 languages) , power transmission by a digital servo motor (drag and tangential knife), cutting force has 31 levels of adjustment, transport of media by means of roll rack, sensor head for automatic 4 point registration mark sensing (ARMS 5.0), USB 2.0 and RS-232 C port, 2 MB internal memory, external power cord; weight: approx. 10.5 kg, dimensions (width x depth x height): 672 mm x 338 mm x 266 mm Maximum cutting range: 375 mm x 50 m Maximum operational width: 484 mm Maximum cutting speed: 600 mm/s in all directions Cutting force (knife pressure): 2.94 N (300 grams) in 31 levels Mechanical and programmable resolution: 0.005 mm Number of mountable tools: 1 Standard accessories (included): Knife holder for 0.9 m,m blade Knife blade, 0.9 mm, 45° Pen holder Fibre pen point, black Cutting mat, A3 USB cable Power cord Operating instructions (DVD) 1 pair of roller holders Software: Windows Driver, Windows plotter controller, Graphtec Studio (Windows), plug-in-software Cutting Master 3 for Illustrator and Corel Draw (Mac & Windows)
What is the difference between a machine for professional use and one for amateurs? In the case of a professional quality machine, the user has more options; he can individually adjust and make settings that directly influence the machine's processing attributes. Machines for amateurs provide an automatic operation and try to be as easy to use as possible; this means less room to maneuver than with the professional version but the learning curve is reduced greatly! We have expanded our assortment of cutting plotters with the Graphtek CE6000-40 so that our selection also includes a comparatively reasonably priced machine of professional quality with reliable technology and a very robust housing. Read further and find out just what this machine can do…
Attributes: The Graphtek CE6000-40 is a drum plotter that allows you the option of employing a drag knife or a tangential knife as the job requires. If you are working with thicker materials, the tangential knife is recommended; if, however, a thin film is to be cut as quickly as possible, the drag knife is the better choice. In both modes, a digitally controlled, field-tested servomotor that is found in all the 6000 series machines drives the operating head. To represent the precision of the servomotor in numbers: the manufacturer gives the repeat accuracy as 0.1 mm (or better) on a length of two metres and maintains that the mechanical resolution for cutting work is 0.005 mm. The manufacturer guarantees these narrow specifications for a span of 356 mm – which covers almost the entire maximum cutting width – and a length of two metres.
If you look closely at the cutting area you will see two gummed roller racks that provide for the very precise transport of the medium to be cut. The width of the rollers can be quickly and accurately adjusted by hand as the job requires. This allows you to introduce even very small, exactly measured pieces (minimum width, see manufacturer's info) without having to worry about too much wastage (there is much less of it!). On a second axis is found the sensor-driven cutting head that can be navigated by means of the 4-point registration-mark recognition program. The integrated automatic registration mark sensor ARMS is, when cutting out a printed template, capable of correcting a faulty, distorted image by referencing the given data and works with additional registration marks on the lengthwise side so that greater precision is attained when cutting particularly long patterns. The auto registration mark recognition also enables contour cuts – that is, the combination of printing and plotting: so it is that you can create a cutout of an image, print it with registration marks and subsequently have the machine either cut it out along the marked path or make only perforation cuts at the marked areas. The latter allows you to produce, for example, printed folding (collapsible) boxes comparatively quickly and easily (you simply make the folds at the perforated lines).
The cutting depth of the knife can be continuously adjusted according to the thickness of the material, thereby allowing for great precision. The tool holder on the cutting head is versatile: in addition to knife blades with various thicknesses (0.9 and 1.5 mm) and cutting angles (45° or 60°), pens can also be clamped; this allows the CE6000-40 to serve as a drawing machine as well.
The service life of a knife naturally depends on the material being worked on – any designation in this regard can only be made with definite reservations. The machine does, however, have a function for determining the wear of the blade in which (empirical) values are attributed to certain materials and this allows the machine to determine the condition of the knife, if inexactly.
Its maximum cutting speed of 600 mm/s means that the CE6000-40 is extremely fast and that it has the ability to complete even larger cutting jobs in a very reasonable amount of time. The working speed is adjustable in eleven levels so that even in this regard you can experiment and find out the most advantageous level: what speed produces the cleanest cut on a particular material? In the case of paper, for example, this will be a somewhat reduced speed. The same is true of the cutting force, which can be regulated in 31 levels, thereby allowing you to find the ideal force for each new material. For materials that you cut often there are eight pre-programmed setting possible. By employing the function keys and the display, you have direct access to a range of setting options and corrective actions and you can also give over the control of the cutting head to the relevant software. The latter is the quickest way to complete much of your work as compared, for example, to beginning your cutting work by manually and directly setting up the machine.
A very important feature that shouldn't be overlooked if you plan to use the machine continuously for extended periods of time: The machine not only works very quickly and precisely, but is also surprisingly and pleasantly quiet - that is to say, easier on the nerves, an attribute that allows you to concentrate more on the other tasks you may want to attend to during the run.
Applications: The Graphtec CE6000-40 cutting plotter can draw, cut and perforate. These work steps can also be combined so that a shape that has been cut out can itself contain drawn, perforated and cutout elements. Typical areas of use for the CE6000-40 are:
Ornaments or lettering made from film in sizes from 5 to 375 mm in height (note: matrix stripping – trimming – of serifs from very small letters reveals itself to be difficult to the point of impossibility).
Making labels and stickers (bottle labels)
Making collapsible (folded) cardboard boxes 
Making templates (stencils, sandblast films) 
Making modeling construction pieces – for example, facades with many windows
Making cardboard silhouette figures
Making templates for textile transfers (flock coating)
Making technical line drawings and illustrations – with a clamped felt-tip pen in the place of the knife.
In order to enable you to grasp which materials can be processed into which thicknesses/grammages, we offer the following specifications and empirical values. They should be considered as a general orientation and not as hard and fast limitations that can never be violated: 
All paper and cardboard up to a grammage of 240 g/m² (according to technical specifications: our tests have shown that higher grammages can be processed with satisfactory results)
Wood veneer (DECOFLEX)
Double-sided adhesive films as well as a whole range of other self-adhesive and non-self-adhesive films (technical specifications are as follows: up to 0.25 mm thickness – here, as well, you can provisionally pre-test thicker films because it could prove to be amenable. We have, for example, successfully processed polypropylene with a thickness of 0.5 mm).
You can also cut thicker materials by allowing the knife to pass through the material a number of times – this is possible because of the aforementioned excellent repeatability of this machine.
Treatment: Just about anything that can be made on a screen and that has an outline or contour lines can be processed by the cutting plotter machine. The included software offers a number of functions for inserting text, drawing shapes, importing pictures as well as the creation of outline data; this software, however, is not up to the quality level of professional programs like Illustrator or Corel Draw. These last named programs can also be implemented after the installation of the appropriate plug-ins on your computer. Cutting data up to 2 MB can be loaded directly into the machine's memory and subsequently applied to a cut run (also repeatable with slight modifications) while another process is simultaneously running on your PC.
The Graphtec CE6000-40 cutting plotter can do a cutting job that entails 375 mm in width and 50 metres in length within the parameters of one procedure. If a case arises in which these dimensional limitations are too small, the plotter can be used to create mounting area plots: The intended motif is thereby prepared in individual strips and then put together again later.
Both materials without backing that are to be cut all the way through and very small pieces of material can be placed on the accessory CARRIER SHEET, which has a lightly adhesive surface, before being run through the machine. These carrier sheets are consumable articles that must be replaced after a certain amount of time. In place of the original CARRIER SHEETS, other films from our assortment like, for example, thin PC film, PET film or rigid-PVC film can be used as long as they have been provided with an adhesive coating beforehand (e.g. CREATIV MOUNT SPRAY ADHESIVE or ASLAN DOUBLE-SIDED ADHESIVE FILM DK4, REMOVABLE). The original carrier sheets do indeed have a printed grid that makes the positioning of the material to be cut a lot easier, but this does not seem to be important enough to justify spending additional money for the advantage (you decide!).
By registering on the Internet site www.hobbyplotter.de you can download a German language comprehensive instruction manual as a PDF file.
Graphtec CE6000-40 cutting plotter incl. accessories