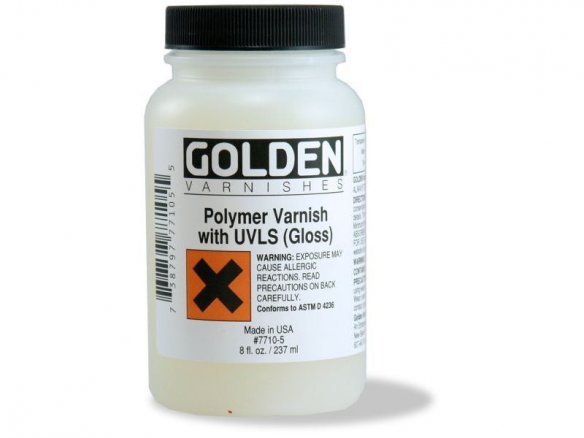 varnish for acrylic paints, styrene acrylic copolymer solution with UV light stabilizer, water-based, transparent or, alternatively, translucent colourless, can be thinned with distilled water, abrasion-resistant, non-yellowing, only for indoor use, removable with alkaline solutions
Golden Polymer varnish is a colourless, water-based acrylic paint that increases the resistance of an acrylic artwork to soiling, mechanical stresses and UV rays. The Satin and the Matte versions will tend to darken light colours somewhat. All three different finishes can be intermixed, thus allowing you to obtain your desired glossiness.
Before applying the final varnish coat we recommend that your finished work be first sealed with a transparent insulating coating. This will not be removable and will help protect the artwork´s surface when the final coat of varnish must removed and reapplied for conservation purposes. For this work, the glossy GOLDEN SOFT GEL (thinned at a ratio of 2:1 with water) works great.
Processing: Before applying, the varnish must be thinned with distilled water in the following ratios: for brush applications 3:1 varnish to water; for spray applications, 1:2 varnish to water. The use of a roller is not advisable because there is the danger of the varnish foaming up. A light-coloured firm bristle brush is best for making your application, which should be done in many thin coats. The translucent Matte and the Satin varnish versions should not be applied in more than two coats in order to avoid the opacification of the colours. Each coat should be allowed to dry from 3 to 6 hours before applying the next coat.
Golden Polymer varnish can be removed with alkaline solutions such as ammonia. This can be necessary when the surface of the work has become extremely soiled or been damaged.
Golden Polymer varnish
3 Variants