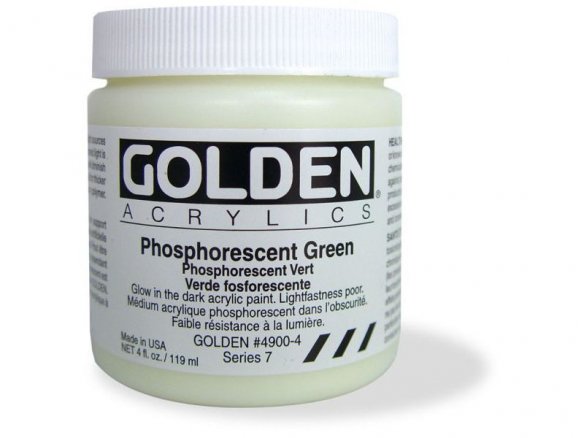 pigments in acrylic polymer binding agent, water-based, pasty consistency, transparent when dry, not lightfast ( loses effectiveness with time)
Phosphorescent acrylic paint is based on a pigment that can absorb natural and artificial light and store it. Once the light source is removed, a bright greenish glow is then emitted for up to 15 minutes. Phosphorescent Green will only glow when it has been directly exposed to fairly intense light. The quickest way to "charge it up" is with an ultraviolet light (black light). When exposed to that light source, it will glow like a neon paint practically forever.
This paint must be applied in numerous coats in order for the glow-in-the-dark effect to attain the highest possible degree of intensity and permanency. Each coat must be completely dry before the next is applied. Phosphorescent Green is not lightfast, i.e. the ability of the paint to be charged up with light will diminish with time. By applying new coats, however, this ability can be brought back to life!
Phosphorescent acrylics can be mixed with all the Golden glossy gels or mediums. Mixing it with Golden Heavy gel gives the paint a more pasty consistency, which allows it to be applied in thicker coats.
Golden Phosphorescent acrylics, 118 ml tub, phosphorescent green (4900)