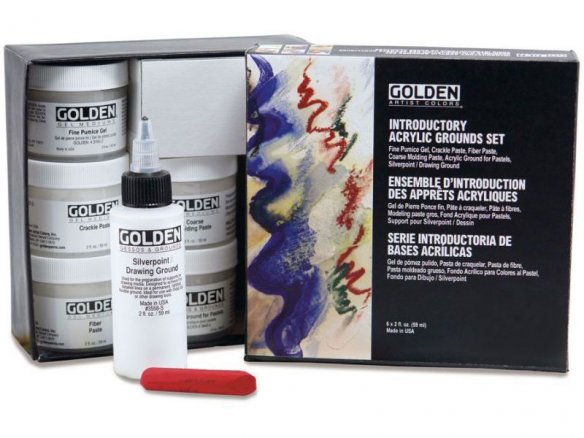 six different acrylic pastes and gels for creating structures, textures, and grounds (primers); contents: Fine Pumice gel, Crackle paste, Acrylic Ground (primer) for pastels, Fiber paste, Coarse Molding paste, Silverpoint Drawing Ground
This set of 6 is the ideal starter kit for getting to know some of the Golden pastes and gels that can be used to create different painting grounds. All the  pastes and gels have a pasty consistency - some more, some less - and dry to a variety of raw and absorbent surfaces. This makes them great for making a substrate that takes well to glazing techniques with acrylic paints but also for various dry techniques as well. All the painting mediums can be coloured with acrylic paints.
The Coarse Molding paste has a pasty consistency and, when applied in a thin coat, dries to a coarse, translucent film that reminds one of sandpaper.
Silverpoint Drawing Ground is a smooth and firm acrylic primer that makes it possible to draw fine, detailed lines (especially with metal stylii or other drawing tools) on any number of substrates (supports).
Comprehensive information about the other grounds in the set can be found at their respective product descriptions in our website shop: GOLDEN PUMICE GEL, GOLDEN FIBER PASTE, GOLDEN ACRYLIC GROUND FOR PASTELS; GOLDEN CRACKLE PASTE.
Golden medium set, set of 6 plastic jars (60 ml each)