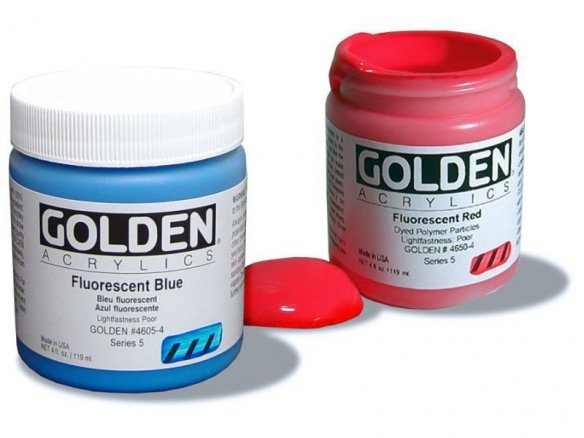 highly pigmented dyes surrounded by a polymer coating, water-based, pasty consistency, transparent when dry, not lightfast (not non-fading!)
This Fluorescent acrylic paint has a pasty consistency and a high degree of colour intensity that is particularly luminescent under a black light. This paint, which is transparent when dry, has an even greater degree of intensity when it is applied to bright white surfaces.
Our GOLDEN GESSO (white fluid coating) is great for an undercoat or you can use the Titanium White paint from the HEAVY BODY ACRYLICS product line from Golden.
Fluorescent acrylic paint is not lightfast! A final coat of UV protective varnish is a possible solution to this problem but it should be noted that it will indeed negatively affect the luminosity.
Golden Flourescent acrylics
8 Variants