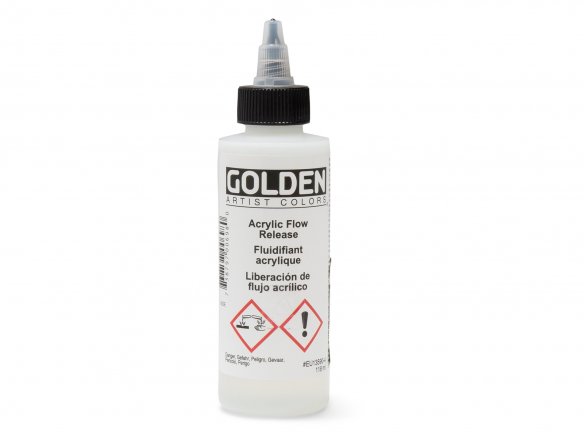 additive for acrylic paint to increase the flow characteristics, not ready-to-use (must be diluted 1 part flow release to 10-20 parts water), hazard warning: Xn = hazardous to health
The painting auxiliary Flow Release is a surfactant, i.e. it reduces the surface tension of water and makes it "wetter". When mixed with water-based acrylic paints it improves the flow characteristics of the paint as it leaves the brush without having to dilute it. Its main purpose, however, is to help paint permeate and stain porous surfaces like, for example, raw canvas. This attribute is particularly useful for glazing techniques assuring as it does that the thinned paint will evenly permeate the substrate being worked on. Flow Release can also be used to "balance" acrylic paints for marbleizing techniques.
Processing: Before being added to an acrylic paint, Flow Release must be diluted with water in a ratio between 1: 10 and 1:20. Careful stirring during this process will prevent foam from forming. The resulting mixture can then be added to an acrylic paint in an amount not more than 3%. The more porous the substrate, the more it will be able to absorb the Flow Release/water mixture in the paint. Please note however: too much Flow Release reduces the waterproofness of acrylic paints!
Golden Acrylic Flow Release plastic bottle, 118 ml (3590)