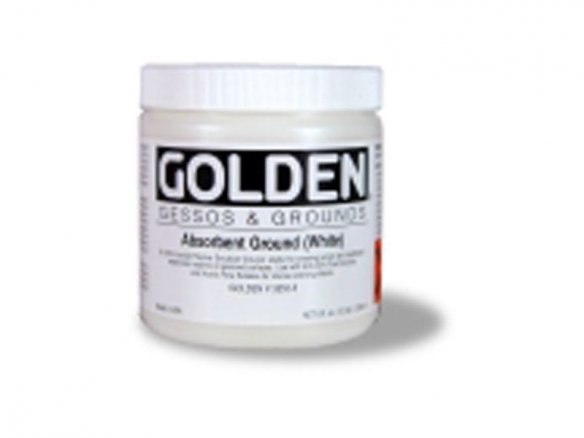 acrylic primer for glazing techniques on canvas, water-based, liquid, white, can be thinned with water, has rough paper-like surface when dry; also waterproof, flexible, lightfast (non-fading), age resistant when dry
Absorbent Ground is a primer that dries to an open-pored, watercolour paper type surface upon which glazing paints can be applied. In this way, you are able to use watercolour techniques on canvas and wood. 
Processing: Before applying Absorbent Ground a coat of GESSO must first be applied to the raw canvas. Only after that can the Absorbent Ground be applied in 5 to 6 thin coats with a brush, roller or sponge. If a lighter underground is desired this product can be thinned up to 20% with water while if coloured undergrounds are needed it can be mixed with acrylic paint. 
An underground treated with Absorbent Ground acts just like watercolour paper and can be painted on with acrylic paints thinned with water as well as with watercolour and gouache paints, including with wet-in-wet techniques. Completed work on Absorbent Ground treated surfaces will definitely require a finishing coat of varnish in order to protect the absorbent surface from being soiled with dirt and dust. For acrylic paintings a water-based protective varnish like the GOLDEN POLYMER VARNISH is the perfect choice while for watercolour and gouache paintings solvent-free spray varnish is more appropriate.
Golden Absorbent Ground, plastic bottle, 237 ml, white (3555)