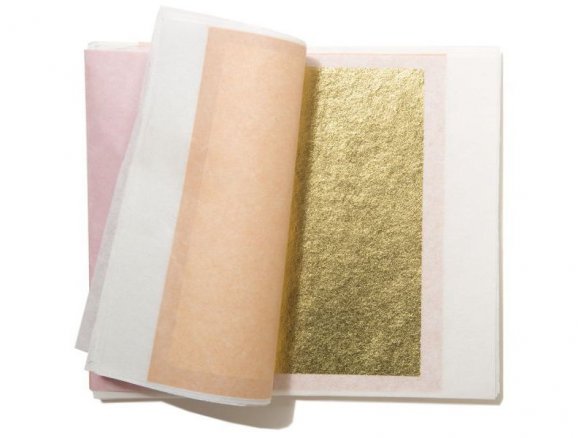 real gold leaf, shiny, very good quality, th = ca. 0.1 µm, comes on carrier paper with talcum powder, with tissue paper intermediate layers, comes in glassine paper bag
Ten thousand leaves of gold leaf must be stacked on top of each other in order to measure one single millimetre in height. Anyone who wants to work with such leaves in the so-called loose form should consider that really only experienced professionals should try such a thing because even the slightest wind or even a misaimed breath can simply blow the stuff away or, alternatively, the lightest unskilled contact with the leaf could tear it. If the leaf is just touched one time by a naked finger it will be ruined forever.
It is not only because of this extreme sensitivity but also because of the extreme difficulty of the technique that must be employed with loose gold (the so-called poliment gilding method), that we only supply loose gold leaf by special request. It is not for nothing that it takes three years in Germany to qualify as a skilled trade gilder. Results that are almost as good as those of the poliment gilding technique, however, can be achieved by ambitious amateurs who use the transfer patent gold that we offer in place of the loose version.
Transfer gold is a fabrication whereby each single leaf of gold is pressed onto a piece of carrier paper and subsequently applied to the object that is to be gilded in much the same way one would apply a transfer. In the process, the leaf gold, together with the transfer paper, should be removed by hand from the booklet that it comes in and cut to the required size using a scissors. The side with the gold should then be placed on the object to be gilded, which has been first prepared with either GILDING SIZE or MIXTION, pressed into place with either your finger or a cotton dabber and finally the carrier paper should be carefully removed. In order to assure that the gold frees itself from the carrier paper easily, there is a layer of talcum powder between the two. Within the booklet itself, the individual sheets of gold are protected from one another by means of intermediate sheets made of tissue paper.
The 22 karat version of the gold should only be used indoors – unless you apply a coat of FINISHING VARNISH – while the 23.75 karat version can also be used outdoors because it will not tarnish. The gilded surface can be polished to a high gloss by employing AGATE POLISHING STONES.
One booklet contains enough gold leaf to gild a flat area measuring about 0.15 m². Gold leaf can be used in combination with POWDER GOLD and SHELL GOLD when they have the same karat value.
Gold leaf patent
2 Variants