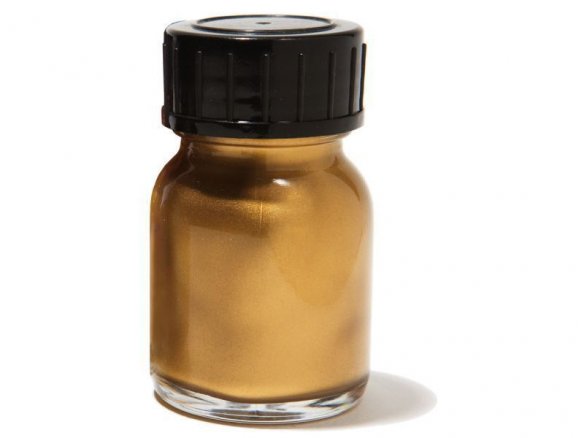 metal pigments without tarnish protection, paste-like, shiny, can be thinned with white spirit, drying time is approximately 1 – 2 hours, waterproof, comes in glass bottle with screw cap
Description
Hazard warnings
Gilt cream is mainly used for repair and touch-up work. The substrate cannot be absorbent and must sometimes, when necessary, be primed. Gilt cream has great covering ability and can be thinned with white spirit. As it thins, it should be evenly applied to the intended object with a brush (e.g. SYNTHETIC BRISTLE BRUSH, FLAT), a sponge or a lint free, soft cloth. After about 2 or 3 minutes, all the excess gilt cream must be carefully removed with a cloth and the cream then smoothed out. Depending on the temperature, drying time is approximately 1 or 2 hours. After drying, the cream can be polished by means of a soft cloth until a metallic shine appears. If so desired, small areas can be lightly polished using an AGATE POLISHING STONE. Following that process, the area should then be rubbed again with a soft cloth in order to achieve a shiny metallic effect.
Because the cream does not have a tarnish protector, it is generally used when an aging effect is wanted. If you want the original shine to remain as it is, you can apply a coat of FINISHING VARNISH to the gilt cream surface after it has dried.
Danger, Kupfer = 25 - 50 %, Kohlenwasserstoffe, C9-C12, n-Alkane, Isoalkane, Cyclene, Aromaten (2-25%) = 25 - 50 %, Kohlenwasserstoffe, C10-C13, n-Alkane, Isoalkane, Cycloalkane, Aromaten (2-25%) = 10 - 20 %, Zinkpulver - Zinkstaub (stabilisiert) = 5 - 10 %, Talgalkylamin, hydrogeniert = < 1 %, Aluminiumpulver (stabilisiert) = 30 - 45 %, Flam. Sol. 2, STOT RE 1, Aquatic Acute 1, Aquatic Chronic 2, STOT SE 3
Hazard warnings
H228: Flammable solid.
H336: May cause drowsiness or dizziness.
H372: Causes damage to organs through prolonged or repeated exposure .
H400: Very toxic to aquatic life.
H411: Toxic to aquatic life with long lasting effects.
Safety instructions
P210: Keep away from heat, hot surfaces, sparks, open flames and other ignition sources. No smoking.
P260: Do not breathe dust / fume / gas / mist / vapours / spray.
P270: Do no eat, drink or smoke when using this product.
P280: Wear protective gloves / protective clothing / eye protection / face protection.
P314: Get medical advice / attention if you feel unwell.
P403+P233: Store in a well-ventilated place. Keep container tightly closed.
Gilt cream (polishing cream), gold, 25 ml
Note
Gilt cream is highly inflammable. It does not, however, contain any meaningful amount of ingredient that is not safe to use healthwise.