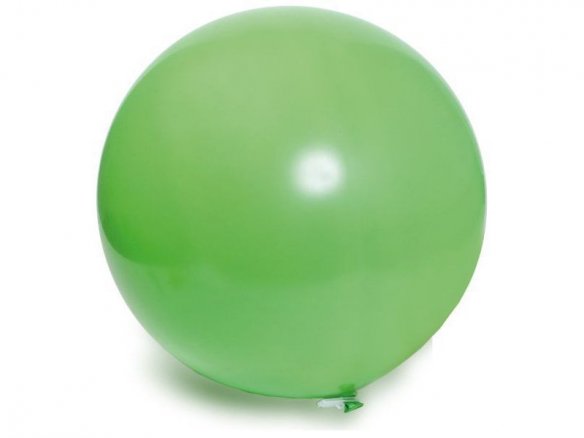 natural rubber, given dimensions: ca. diameter, Circumference: maximum 2,500 mm, surface: semi-gloss, can be filled with gas, includes 2 clamps, packed in reclosable plasctic bag
Besides its use as a decorative or design element for stages of all kinds, giant balloons can also be used as a way to mould hollow objects, whether that be in the creation of a spaceship costume or to make your own globe. Speaking of globes - if you want to be both very amused as well as perhaps inspired it is worth taking five minutes of your time to watch the famous Charlie Chaplin scene in which he plays The Führer punching a balloon globe around in "The Great Dictator" (on YouTube for example).
When blown up the balloon is round. The latex material is somewhat thicker than that used for the smaller balloons. The surface of the balloon is slightly glossy (semi-gloss). After about two or three days a matte powdery film will form on the surface. When blown up the balloons are not transparent - they remain opaque.
How do you blow up such a huge balloon? Because the neck of the balloon is relatively wide (diameter is about 30 mm), it must be held in place at the pump nozzle while pumping. It is best to use an electric pump, pneumatic pump or balloon gas for blowing them up. A smaller balloon pump it will take pretty much effort but then where there´s a will there´s a way!
If you are interested in larger amounts of these giant balloons, inquire about the bulk packs.
Giant balloon, opaque
7 Variants
Note
Children under eight years old can suffocate on balloons that are not blown up or ones that have popped. Adult supervision is required. Keep balloons without air away from children. Popped balloons must be disposed of immediately. Use a pump for blowing them up. Made from natural rubber, which can cause allergic reactions. Please save the packaging.