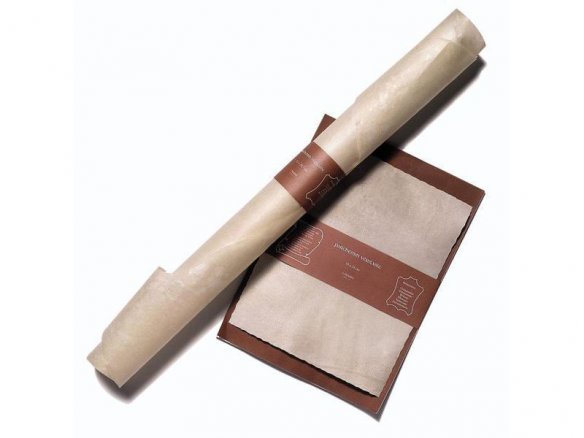 natural
highly durable
erasable
material

made of calf-, lamb- or goat skin
Parchment is defined as a thin, translucent animal hide that has been dried on a stretching frame and which is suitable for being written on, among other uses. Along with PAPYRUS, parchment is considered the forerunner of paper. The parchment paper that is available to us today is, on the other hand, a boil proof paper that is impermeable to grease and water - it is made from an absorbent base paper that has been treated in a sulphuric acid bath in order to seal the paper's surface. In terms of translucence and firmness, today's parchment paper is indeed similar to real parchment.
The word "parchment" evolved from the word "pergament" which itself refers to the ancient Greek city Pergamon (on the west coast of what today is Turkey – now it is called Bergama). In the 3rd century BC, King Eumenes II, the ruler of Pergamon, brought rolls of text with him to Rome, rolls that were made of thin, shaven sheepskins and which he called "membrana" (skins). It was probably in memory of this original bearer that these skins came to be called "membrana pergamena", which later simply became "pergament". It must be said that this explanation is only one of many dealing with the origins of parchment but what does seem settled is that parchment was not actually invented in Pergamon but only that it was there that improved methods of its production were developed.
Like the PAPYRUS, which was made with the pulp extracted from an Egyptian reed and had been in use up until then, the dried animal hide was a product that required an elaborate production process, making it very expensive. Nonetheless, in comparison to papyrus it had many advantages: it was more durable and more resistant to tearing, it could be folded, was easier to write on and, perhaps even more important, written mistakes or even whole texts could be scraped away and the parchment written over again. Because it was so durable, parchment was being used for making certificates, for recording coats of arms, family trees and other important documents long after paper had been invented.
The production of parchment is similar to that of making leather with the difference being that the animal hide would not be tanned but rather soaked in a lime solution before the hair, epidermis and remaining flesh was removed by scraping. The hide would subsequently be cleaned, spanned across a frame and allowed to dry. The stretching of the hide rendered it translucent while keeping it supple. In order to make the surface smooth and velvety enough for writing, it was then rubbed down with chalk.
Parchment can be written on with a quill and ink, among other things. Any markings or writing can be removed by scraping the surface with a RAZOR BLADE. This material is robust enough to also be used as a book cover and as a drum skin to be stretched over a shell. In addition, it can also be used for making lampshades because of its translucence.
Parchment is hygroscopic, which means that it can attract water from the air and release it. Because of this attribute, when stored in conditions that are too humid or if it comes into contact with water it will tend to become wavy. On the other hand, if the air is too dry or too hot, that can have the effect that the parchment will harden or thicken (become callused).
Genuine animal hide parchment
2 Variants
190 mm x 249 mm
800 mm x 900 mm