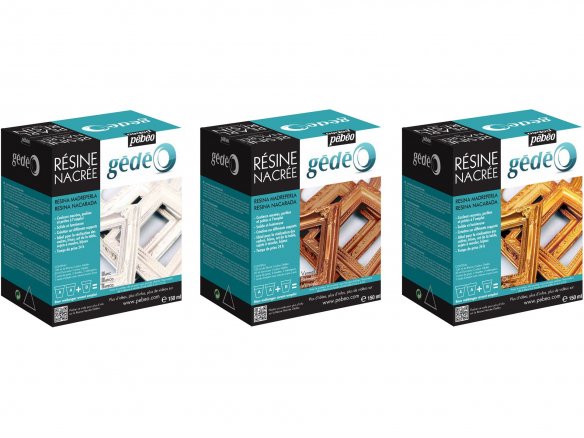 2-component epoxy resin casting material, opaque, waterproof and UV resistant, mixing ratio of resin to water is 2:1, curing time: 12 hours for the surface, 24 hours for the core, shelf life when properly stored: minimum of 6 months (both the resin and the hardener), freezing temperatures should be avoided; comes with 1 protective pair of gloves, 2 measuring beakers, 2 stirring spatulas; hazardous warning: Xi (caustic), N (harmful to the environment), C (corrosive)
Gedeo pearl resin is a casting resin for making opaque metallic coloured castings from small or flat objects like jewellery, picture frames, etc. up to 50 mm thick.
Processing: Pearl resin must first be stirred in order to distribute the nacre (mother-of-pearl) evenly throughout the powder. Once that is done, put 1 part of hardener B in a clean, dry container, then add 2 parts of resin A. The two components must be carefully but thoroughly stirred and mixed (note: if the components are not completely mixed together the hardening will be impaired while too aggressive stirring of the mixture will cause bubbles to form). The properly mixed components are then poured into a second container and stirred once again in order to assure a homogenous resin that will be optimally hardened. After pouring this mixture into a mould, the resin must be allowed to dry while being protected against dust and dirt for 24 hours until it has completely hardened. When working with Gedeo pearl resin it is important to wear protective gloves and to avoid any contact with your skin or eyes.
In order to maintain a high-gloss surface on a moulded object you can apply GEDEO GLOSS + VARNISH or the colourless CRYSTAL RESIN. For producing a marble effect the pearl resin can be mixed with GEDEO CRYSTAL RESIN, TRANSPARENT, COLOURED.
Tip: in order to determine the exact amount of resin required for your job, you can fill your intended mould with water and then pour that amount into a measuring cup: the amount of hardener will then be one-third of the amount of water and the resin of course two-thirds!
Gedeo pearl resin
3 Variants